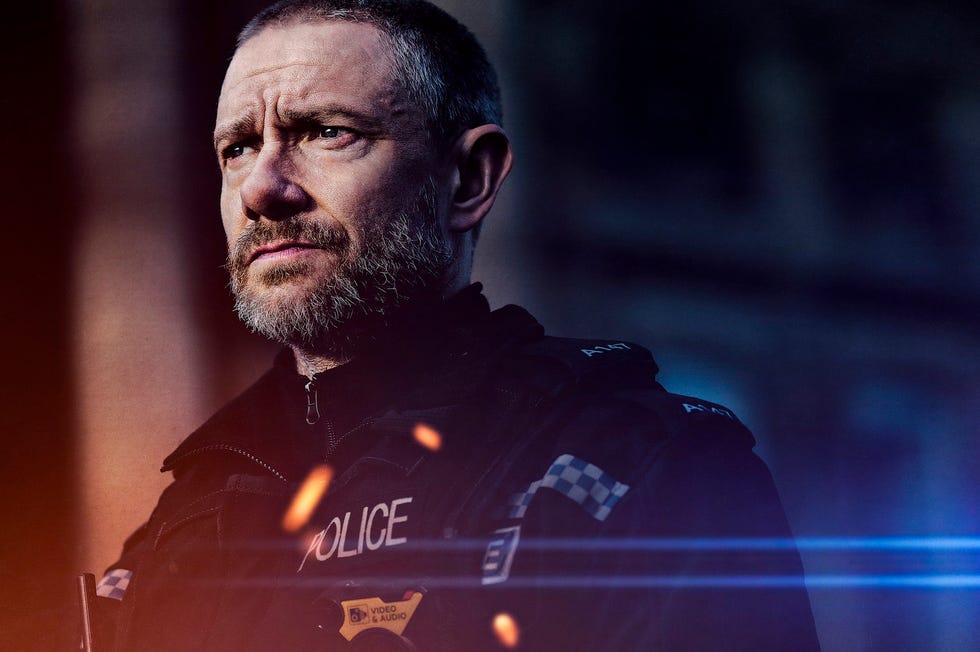 The Responder gripped BBC viewers early last year with nearly 10 million tuning in to the crime drama when the series launched in January.
Thanks to its huge success, The Responder was handed a second series in March 2022 but, over a year on from the announcement, updates have been few and far between, until now.
The BBC has confirmed that series two of The Responder has begun filming in Liverpool, with Martin Freeman back as morally grey copper Chris Carson. Alongside Freeman, Adelayo Adedayo is also returning as Carson's partner Rachel Hargreaves.
Related: The Responder's Martin Freeman discusses show's future after series 2 renewal
Announcing the beginning of filming, the BBC confirmed that series two will join Carson six months after the conclusion of the first series as he attempts to rebuild his life and his relationships, while desperate to avoid the corruption that nearly sucked him under before.
The synopsis continues: "[Carson] is trying to be a better police officer, a better man, and most importantly, a better father to his daughter Tilly. All whilst still dealing with the relentless trauma of being a night response officer. Chris wants a day job. Chris needs a day job. But is he prepared to risk everything to get one?
"Rachel Hargreaves is putting her life back together too. She's still fuming at the way Chris broke her dreams of being a police officer and dragged her down with him into the dirt, and now she's desperately trying to take control of a life and a career that sometimes feels like it's slipping away.
Related: The Responder season 2 everything you need to know
"But after working with a succession of 'normal' coppers, Rachel is starting to realise she's got more in common with Chris than she'd ever want to admit. As they are sucked back together, and into the night, they must pull each other back into the light. But then a routine stop on a black Range Rover changes everything, and suddenly, the darkness beckons once again."
The Responder is written by Tony Schumacher, who loosely based the show on his own experiences working as a police officer in Liverpool.
Speaking about series two, Schumacher said: "Throwing myself back into the world of The Responder has been such a ride over this last year or so. Gathering the characters old and new around me has been a delight, and finally getting to see these people brought to life by so many incredible people fills me with genuine excitement. I just can't wait for you to see them too!"
Series one of The Responder is available to stream on BBC iPlayer, while series 2 is yet to receive a release date.

Reporter, Digital Spy 
Stephanie is a writer who specialises in pro wrestling, covering everything from AEW and WWE to NJPW. 
After graduating with a degree in history from Queen Mary University, London, she went on to study journalism at Birbeck University. 
Outside of her journalism work Stephanie is also a YouTube content creator focusing on AEW and interviewing talent from AEW, WWE, and across the indie wrestling scene. She has also worked for Revolution Pro Wrestling as a backstage interviewer and commentator.
Source: www.digitalspy.com