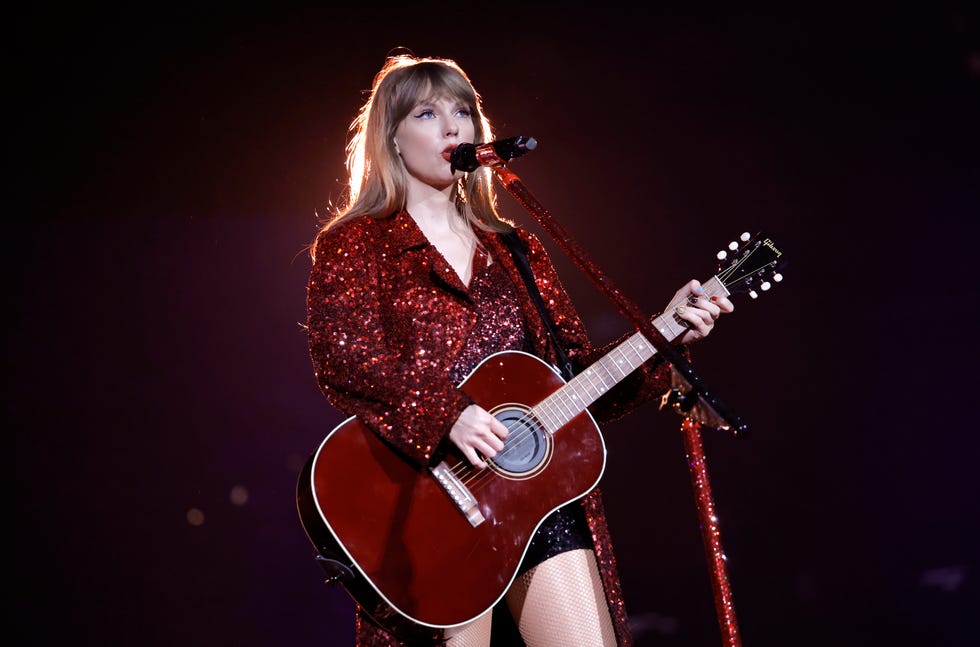 Taylor Swift's newly announced Eras Tour movie has set a big new box office record.
The pop superstar confirmed this week that she will be releasing a concert film of her ongoing tour (which itself has broken a fair few records) on October 13.
It has now emerged that tickets sold for cinema chain AMC have smashed pre-sale records, taking in $26 million in three hours, making it the biggest single-day record for the company and beating previous record holder Spider-Man: No Way Home, which stands at $16.9 million.
Related: Taylor Swift making a big career step with new movie that she has written
With AMC Theatres standing as the world's biggest chain, the feat is extra impressive, and it is also being reported by Fandango that the movie has had the biggest first-day ticket sales of the year.
The Eras Tour will only be showing in the US, Canada and Mexico for the time being, and while AMC is the official distributor, it will also show at other cinemas too – and their sales will likely make the presale figures even higher.
The movie has already had a big impact on release schedules too, with the new Exorcist movie The Exorcist: Believer bringing its original October 13 release date forward a week to avoid clashing.
Related: Taylor Swift reveals awkward Les Misérables audition with Eddie Redmayne
Confirming the news on Twitter, producer Jason Blum jokingly referenced one of Swift's biggest hits by writing: "Look what you made me do. The Exorcist: Believer moves to 10/6/23. #TaylorWins."
Announcing the movie, Swift previously said on social media: "The Eras Tour has been the most meaningful, electric experience of my life so far and I'm overjoyed to tell you that it'll be coming to the big screen soon.
"Starting Oct 13th you'll be able to experience the concert film in theaters in North America! Tickets are on sale now. Eras attire, friendship bracelets, singing and dancing encouraged 1, 2, 3 LGB!!!! (iykyk)".
Sam is a freelance reporter and sub-editor who has a particular interest in movies, TV and music. After completing a journalism Masters at City University, London, Sam joined Digital Spy as a reporter, and has also freelanced for publications such as NME and Screen International.  Sam, who also has a degree in Film, can wax lyrical about everything from Lord of the Rings to Love Is Blind, and is equally in his element crossing every 't' and dotting every 'i' as a sub-editor.
Source: www.digitalspy.com