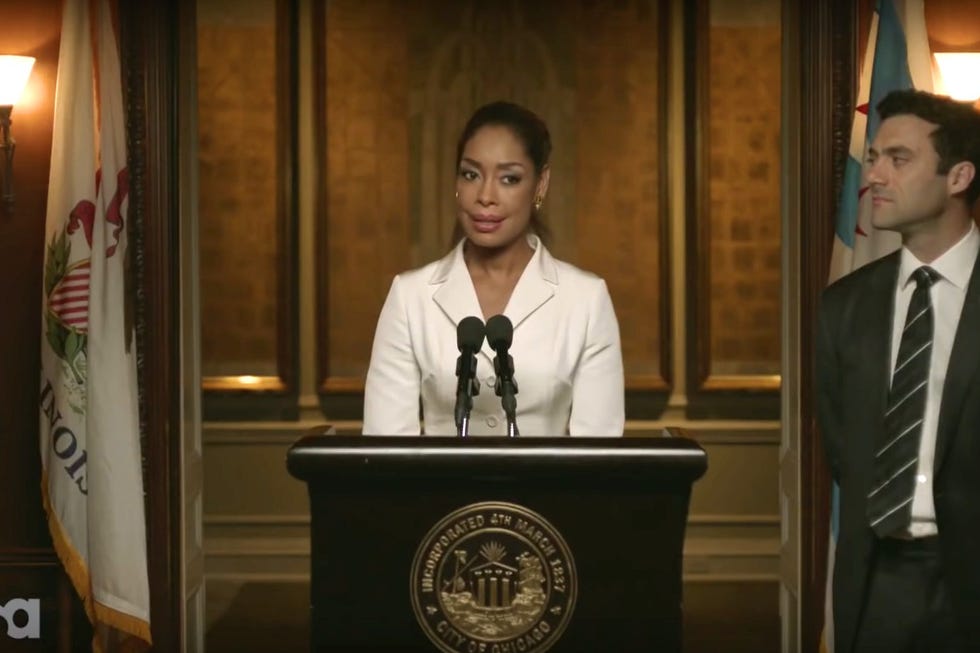 Suits spin-off Pearson is now available on streaming service Peacock, following the renewed interest in the main series.
According to TVLine, the show will now be exclusively available on streaming service Peacock, just months after the original legal drama was added.
Pearson follows Gina Torres' character Jessica Pearson as she leaves behind the New York City law firm and heads into the world of Chicago politics.
Homeland's Morgan Spector also reprised his role as Chicago city mayor Bobby Novak, with Jessica working as a "fixer" for the character.
Related: Suits boss says royals had one of Meghan Markle's lines cut
The series also starred Bethany Joy Lenz, Chantel Riley, Simon Kassianides, Eli Goree and Isabel Arraiza.
Premiering in July 2019, the series ran for 10 episodes before being cancelled due to low ratings a month after the season finale. Peacock's decision to now add the series to its library may have been influenced by Suits breaking multiple streaming records after being added to Netflix.
After becoming available on June 17, the show pulled in 3.1 billion minutes viewed in its second week on the site, according to the Nielsen charts.
Related: Why Suits is the show everyone is now watching, more than a decade after it first aired
The show then broke its own record a week after, with 3.7 billion viewing minutes across both Netflix and Peacock.
Despite the resurgence in popularity, fans shouldn't be expecting to see a reboot anytime soon, as series creator Aaron Korsh has "no plans" to revisit the series.
"Let me say right off that there is no #Suits reboot or anything in the works," he wrote on X/Twitter. "Strike would have to end, some network or streamer would have to reach out and then we would have to collectively want to. Which is no small thing…"
Suits is streaming on Netflix.
Reporter, Digital Spy
Brenna Cooper is a freelance journalist, who currently specialises in entertainment reporting. She joined Digital Spy in 2022, writing TV and movies stories for the site. After graduating with an NCTJ accredited Journalism Masters from the University of Sheffield in 2020 she has since embarked on a freelance career. 
Brenna previously produced lifestyle content for Checklists.co.uk and has a specific interest in music, reviewing live acts and interviewing bands such as Confidence Man and Amyl and the Sniffers.
Source: www.digitalspy.com