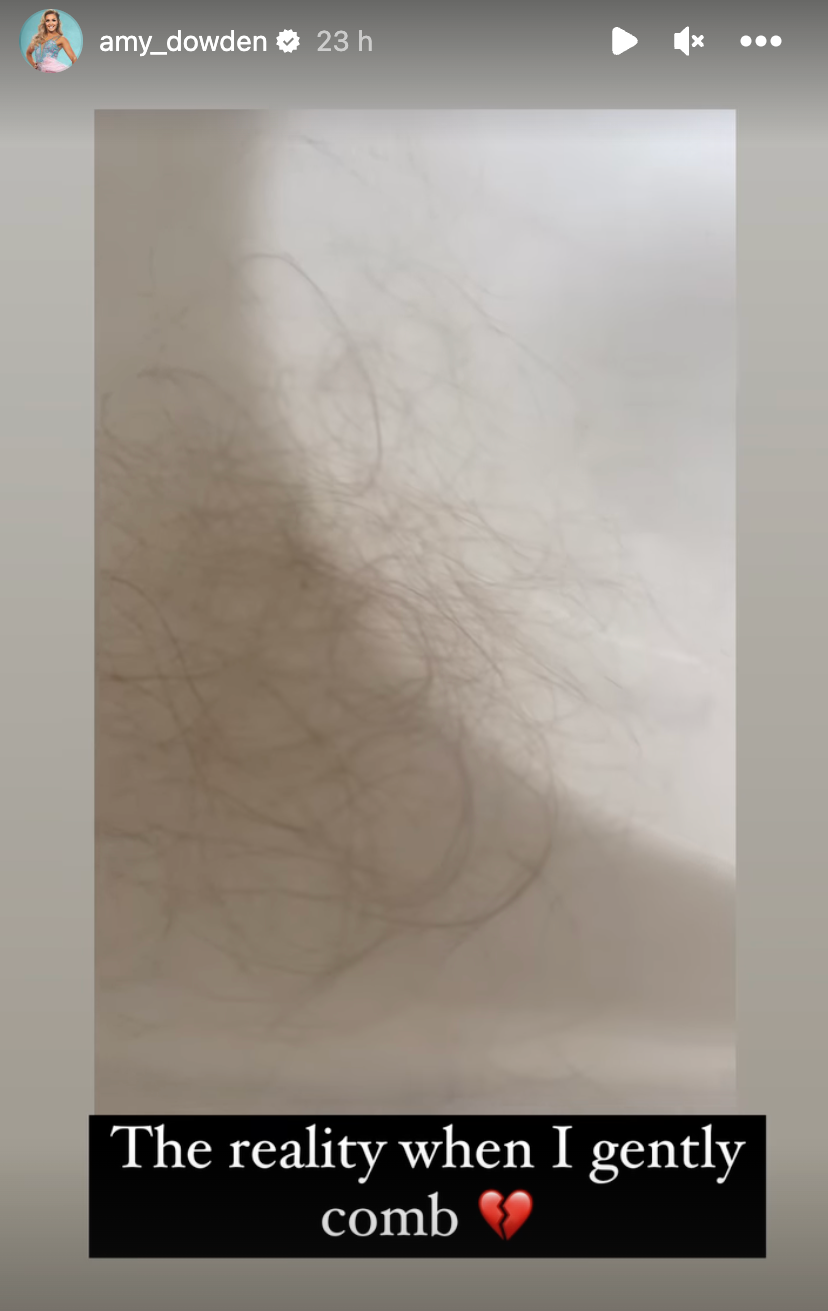 Strictly Come Dancing professional Amy Dowden has opened up about her struggle with "hair shredding" as she goes through chemotherapy.
The dancer announced her breast cancer diagnosis in May and has been detailing the treatment she's been receiving for it via her Instagram. In an update over the weekend, she talked about the effect it's been having on her hair.
"What I've found harder this time round and the last few days is the hair shredding," she wrote on her Stories. "Even though I'm cold capping, you hope to keep 50% of your hair and there are also so many benefits to the hair growing back quicker too.
Related: Strictly's Amy Dowden shares heartbreaking birthday confession
"But as much as I prepared myself waking up everyday gently combing my hair with a wide comb and seeing what comes out is just heartbreaking personally for me. I'm only washing my hair once, max twice, a week, not using any heat on my hair or styling it so I just don't feel like me."
She went on to share an image of her fallen hair on her Instagram Stories, writing: "The reality when I gently comb [broken heart emoji]".
Amy added that she keeps trying to tell herself that she should get used to her wig but struggles with it, especially since it's summer, which is normally the time of year she enjoys the most. However, she stresses she is determined to keep trying the wig in order to help her "feel like me".
Related: Strictly's Dianne Buswell shares Amy Dowden throwback photos
"I know and [am] telling myself the way I look hasn't changed the Amy who I am inside," she continued. "I'm still Amy! I've got some dates in the diary on my good periods I'm working towards and I feel this will really help me and the person I am. Something to look forward and work towards."
In a follow-up post, Amy thanked her friends, family and fans for all of their support during this tough time, saying that while she doesn't have the energy to respond to every kind message, each one "means more than you will ever know".
Further information about breast cancer is available via organisations including the NHS, CoppaFeel!, Macmillan, Cancer Research and Breast Cancer Now. Readers in the US may wish to visit the CDC or the National Cancer Institute.

Joe Anderton is a freelance news writer and resident Welsh person at Digital Spy, having worked there since 2016. 
In his time he's covered a host of live events, interviewed celebrities big and small and crowbarred a countless amount of great/awful (delete as appropriate) puns into articles. 
A big fan of TV and movies both mainstream and obscure, Joe's main interest is in video gaming. Although particularly a PlayStation gamer, he plays across Xbox, Nintendo and PC/Steam Deck, and likes to keep tabs on many games he's not got the time to play.
Joe currently does not use Twitter, but he only ever used it to tell people to watch the film Help! I'm a Fish (which you really should do).
Source: www.digitalspy.com