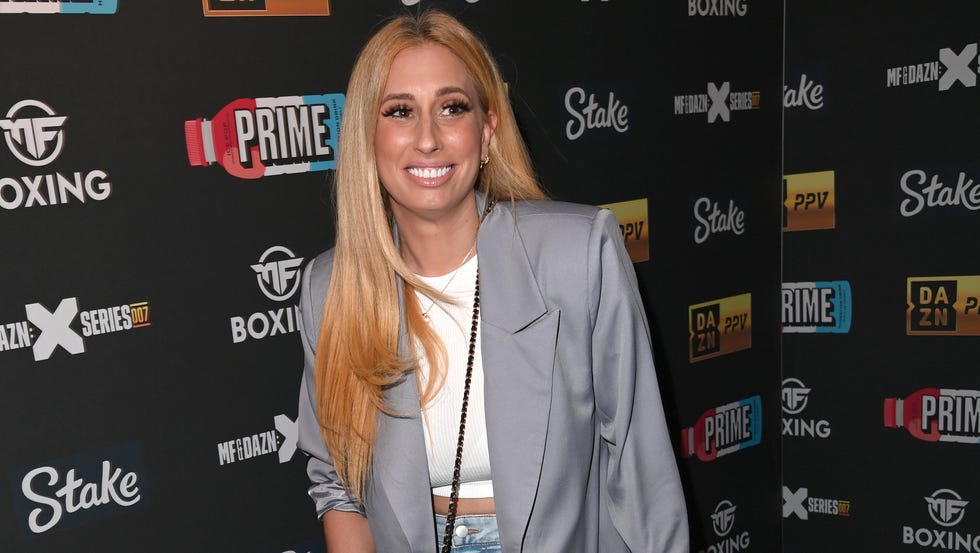 Stacey Solomon has confessed she's got a few unconventional keepsakes hidden away at home.
In preparation for her upcoming third season of BBC's Sort Your Life Out, the mother of five has opened up about some of the possessions she struggles to let go of.
Admitting there are some things she couldn't bear to part with, the Loose Women star revealed she has special memory boxes for each of her children.
Related: Stacey Solomon achieves "life goal" with surprise Emmerdale debut
Chatting about her cherished belongings, Stacey confessed she's kept some unusual items as mementos from each of her children's births.
"I've got [the kids'] umbilical cords," she told to the Mirror. "I think I've got the boys' foreskins somewhere."
Stacey understands that some people may be surprised by her choice of keepsakes, and revealed her Sort Your Life Out co-star, Dilly Carter, isn't onboard with the contents of her memory boxes.
"Dilly absolutely rips me to shreds over that," she said. "She's like, 'What is wrong with you?!'"

Related: I'm a Celebrity's Joe Swash says he and Stacey Solomon might foster a child
Further detailing why the special boxes mean so much to her, Stacey said she's added items to them over the years that each represent core memories for her children.
"They've all got each individual memory boxes. So I hold on to them in their memory boxes alongside little trinkets," she said.
Related: Stacey Solomon tells fans to "unfollow" her after holiday backlash
Stacey became a mother of five earlier this year when she gave birth to Belle, her youngest daughter.
Belle is her third child with her husband, former EastEnders star Joe Swash, and fifth overall.
"We are so grateful we get to be your family," she wrote in a sweet Instagram post following the baby's arrival.
Sort Your Life Out season 3 premieres Thursday September 7 at 8pm on BBC Two and iPlayer.

Acting News Editor, Digital Spy
Emma is an experienced entertainment news journalist with NCTJ accreditation and a First-Class Honours Degree in Journalism. Having started her career as a broadcast journalist, Emma's voice has been heard on varying radio stations across the UK including Absolute, Magic, BBC Three Counties Radio, LBC London News and more.  
Later specialising in multimedia entertainment news, Emma has brushed shoulders with numerous famous faces and interviewed the likes of Edward Norton, Margot Robbie, Sir Michael Palin, Rick Astley, and too many soap stars to count. Having produced a range of engaging news content over the years for brands such as 7Digital's Entertainment News, Yahoo, and Express Online, Emma eventually joined Digital Spy in 2022 as Deputy News Editor.  While she's gained lots of praise during celebrity interviews throughout her career, the most memorable compliment Emma's ever received was when a Game of Thrones star remarked "Your teeth are stunning!".
Source: www.digitalspy.com