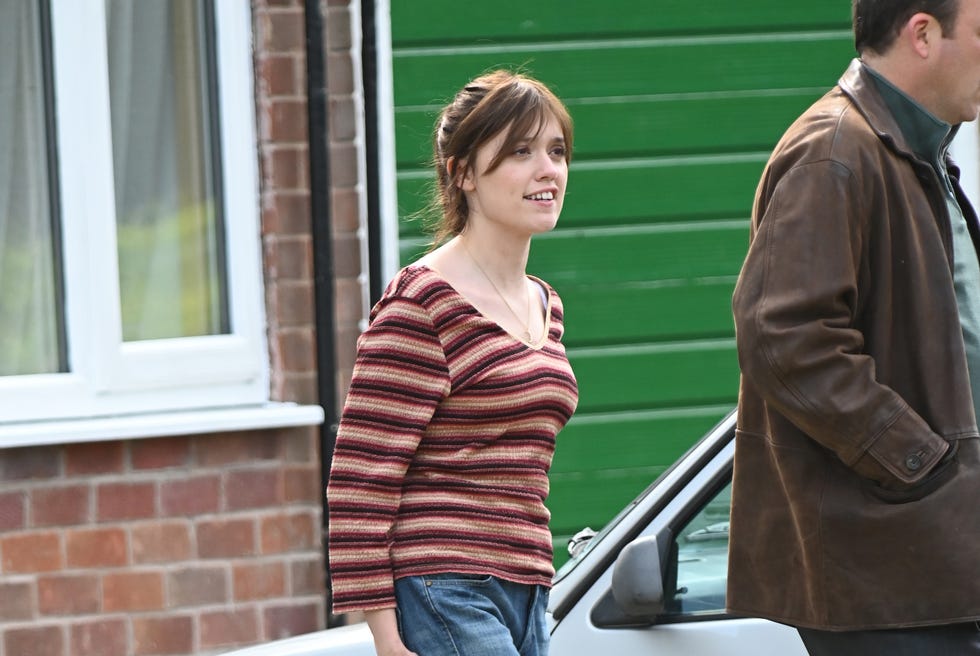 Sex Education star Aimee Lou Wood has been spotted sporting a new hairstyle during filming of Netflix series Toxic Town.
Audiences are used to seeing Wood with blonde hair in her most famous role as Aimee in the hit Netflix coming-of-age show, but it seems the actress has swapped blonde for brunette in her latest series.
She appeared with her newly dyed brown locks up in a ponytail, whilst filming a scene with Bank of Dave and Our Flag Means Death star Rory Kinnear.
Related: Sex Education season 4 everything you need to know
Doctor Who's Jodie Whittaker, The Full Monty's Robert Carlyle and Downton Abbey's Brendan Coyle join Wood and Kinnear in the star-studded TV series.
The four-part limited series, confirmed by Netflix earlier this month, is inspired by the real-life legal battle following the Corby poisoning.
Corby is a Northamptonshire town once home to a steelworks which closed in the early 1980s – but not before a huge amount of toxic waste was deposited there.
Related: First trailer for Stranger Things and Sex Education stars' new horror movie
Efforts to remove the waste led to it contaminating populated areas and communities, having an effect on local residents and their health.
A landmark case later proved that the the environmental damage caused by the way Corby Borough Council moved the waste led to birth defects, with a way-above-average number of people in Corby born with upper-limb defects.
Enola Holmes and His Dark Materials writer Jack Thorne is behind Toxic Town's screenplay, who has chosen to tell the story through three mothers, who fought hard for justice.
"The Corby Toxic Waste Case is one of those moments in history that is defining," he said in a press statement. "It showed our ability to close our eyes and ears to the safety of our people. It also showed the remarkable way that people will fight for what's right.
"Toxic Town tells the story of these funny, brave, incredible women and the way they scrapped for their children."
There's no release date for Toxic Town as yet, but Wood will be on screens soon in Sex Education season 4.
The Living actress will be reprising her role of Aimee in the final series, which arrives on Netflix next month.
Sex Education season 4 will arrive on Netflix on September 21. Seasons 1-3 are available to watch now.

Acting Deputy News Editor, Digital Spy
Emily is an experienced entertainment writer and editor, reporting on all things TV, film, soaps and showbiz. An NCTJ-qualified journalist, with a First Class Honours degree in Journalism from the University of Sussex, Emily has previously worked at Hello magazine, BBC South News and GoodtoKnow. She joined Digital Spy as Acting Deputy News Editor in May 2023.
A small and big-screen obsessive – with subscriptions to every TV and film service under the sun – Emily knows her movie stars from soap stars, and is always clued up on the latest reality show dumping, just-dropped trailer or off-screen spat. She's interviewed a number of celebrities over the years, with highlights including The Masked Singer host Joel Dommett and GMB's Kate Garraway (who "loved" her trousers).
Emily counts Sharon Horgan and Julia Davis as her TV heroes, and is a loyal Wes Anderson fan.
Source: www.digitalspy.com