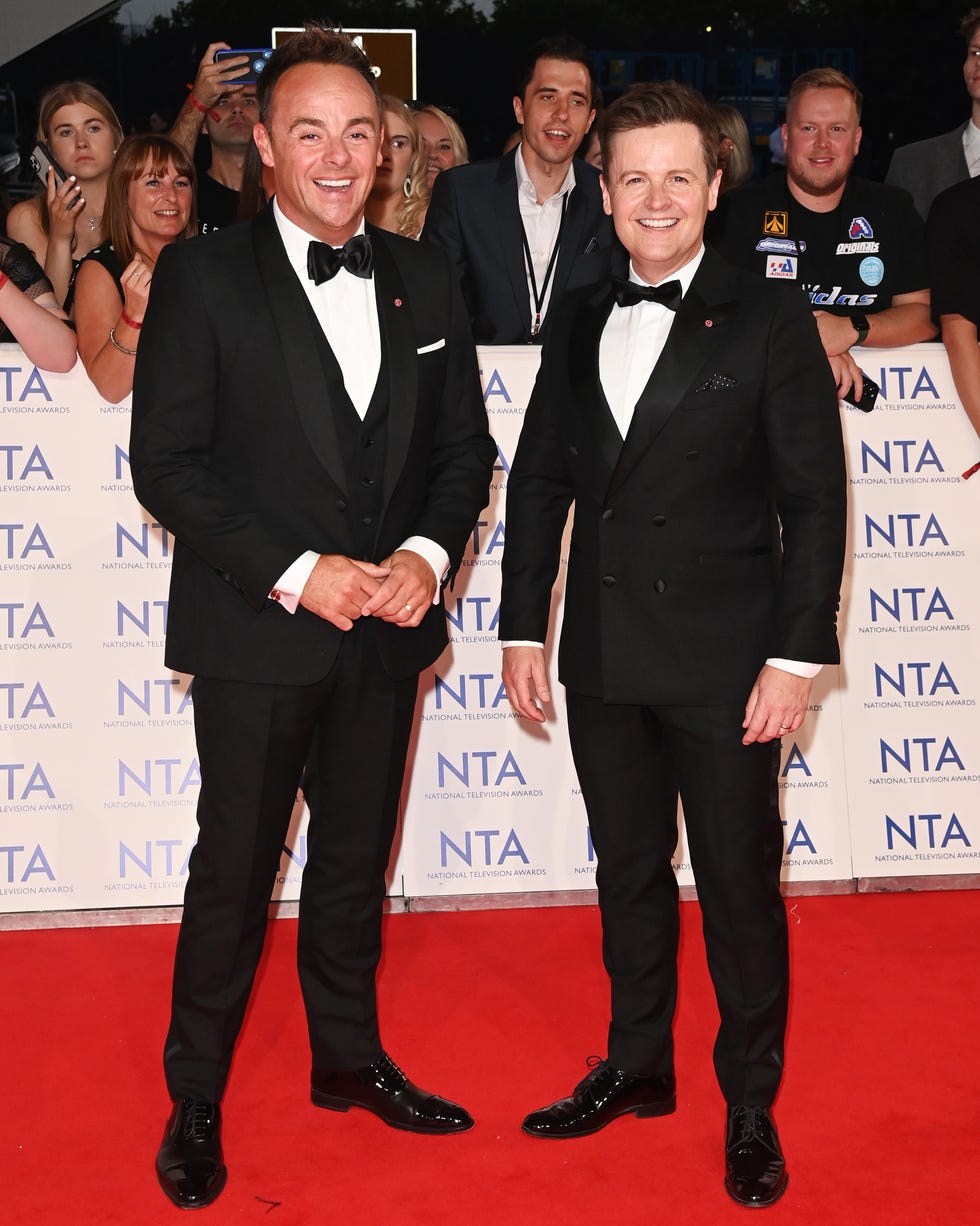 Ant and Dec have won Best TV Presenter for the 22nd year in a row.
At the
National Television Awards 2023 on Tuesday night (September 5), the Britain's Got Talent and I'm a Celebrity duo continued their unrivalled string of victories in the category.
This year's category saw Ant and Dec facing off against Alison Hammond from This Morning, Martin Lewis for The Martin Lewis Money Show, Bradley Walsh for The Chase and Claudia Winkleman for Strictly Come Dancing and The Traitors.
Related: NTAs 2023: All the red carpet looks from the National Television Awards
"Thank you to all of the shows and all of the people we work with. We are the luckiest people on earth because we have the best production teams on earth," Ant told the cheering crowd.
Dec admitted that he was more nervous than ever for this year's award, adding that the duo were "as humbled" as ever to win.
"We'll keep doing it [working] as long as you want us to keep doing it," Ant promised.
Ant and Dec are incredibly busy these days, following the recent confirmation from ITV that their game show Limitless Win has been renewed for two more series.
The presenters are also only a few months away from returning to the jungle for another series of I'm a Celebrity and have more BGT on the way next year.
Related: Ant and Dec share exciting Saturday Night Takeaway update
One big change in Ant and Dec's schedule has also been recently confirmed: They announced they'll be pausing Saturday Night Takeaway following its next series to focus on other projects.
Despite their historic win, the duo did have a blip during this year's NTAs when Googlebox pipped them to score the Bruce Forsyth Entertainment Award, ending their 10-year streak in the category.
The National Television Awards have aired live on ITV1 and ITVX.

Night News Editor
Justin has been with Digital Spy since 2010, and in that time, has covered countless major news events for DS from the US. 
He has worked previously as both a reporter and sub editor for the brand, prior to taking on the position of Night News Editor in 2016. 
Over more than a decade, he has interviewed a wide-ranging group of public figures, from comedian Steve Coogan to icons from the Star Trek universe, cast members from the Marvel Cinematic Universe and reality stars from numerous Real Housewives cities and the Below Deck franchise. As a US contributor to Digital Spy, Justin has also been on the ground to cover major pop culture events like the Star Wars Celebration and the D23 Expo.
Source: www.digitalspy.com