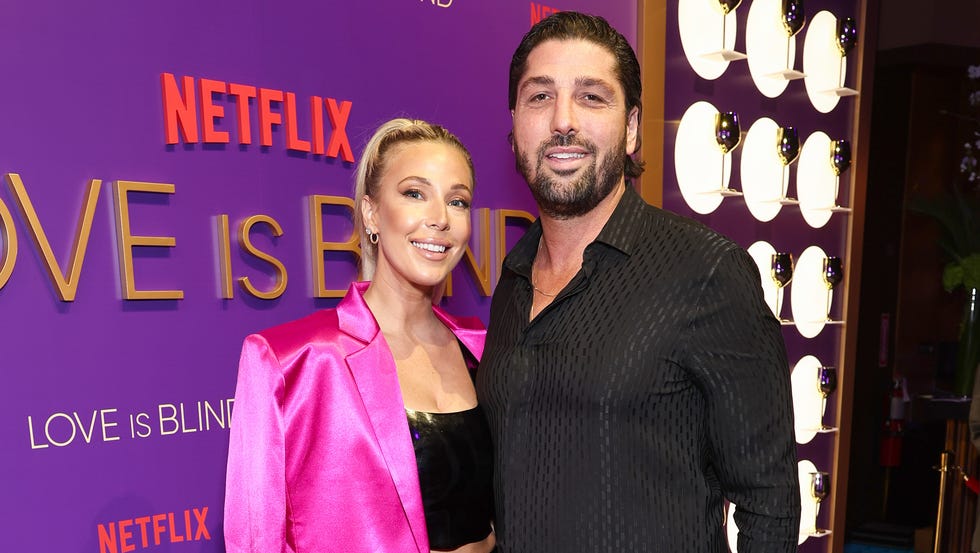 Love Is Blind star Shaina Hurley is expecting her first child with her husband Christos Lardakis.
The reality star shared the exciting news with People this week, confirming she and Christos are expecting just over a year after they tied the knot.
"We feel so thankful and grateful that we have been given such a blessing. Our hearts are full," they said in a joint statement.
"We cannot wait to start this next journey of parenthood together and to meet this little soul!"
Related: Love Is Blind season 5 drops first teaser trailer
Shaina also posted on social media that she was "proud to announce" that "Baby Lardakis [is] coming soon".
The expectant mum received warm congratulations from fellow Love Is Blind stars, including season 4's Kwame Appiah and Bliss Poureetezadi.
Shaina featured in the second season of Netflix's Love Is Blind, where she was involved in a 'will they/won't they' romance with Shayne Jansen after splitting with co-star Kyle Abrams.
Her flirting with Shayne during his engagement to Natalie Lee caused controversy when the show was released, but Shaina insisted at the reunion that she'd moved on with a new relationship.
Shaina announced she'd got engaged only a few weeks after the show premiered in 2022, and she and Christos went on to tie the knot in Vouliagmeni, Greece, later that summer.
Related: Love Is Blind producers respond to contestant allegations of mistreatment
This wonderful baby news comes on the heels of Netflix confirming it will release the fifth season of Love Is Blind on September 22, following the debut of season 4's After the Altar miniseries earlier in the month.
Netflix has also confirmed a UK spin-off of Love Is Blind, with former Big Brother host Emma Willis set to present with her husband Matt Willis.
Love Is Blind is available to stream internationally on Netflix.

Night News Editor
Justin has been with Digital Spy since 2010, and in that time, has covered countless major news events for DS from the US. 
He has worked previously as both a reporter and sub editor for the brand, prior to taking on the position of Night News Editor in 2016. 
Over more than a decade, he has interviewed a wide-ranging group of public figures, from comedian Steve Coogan to icons from the Star Trek universe, cast members from the Marvel Cinematic Universe and reality stars from numerous Real Housewives cities and the Below Deck franchise. As a US contributor to Digital Spy, Justin has also been on the ground to cover major pop culture events like the Star Wars Celebration and the D23 Expo.
Source: www.digitalspy.com