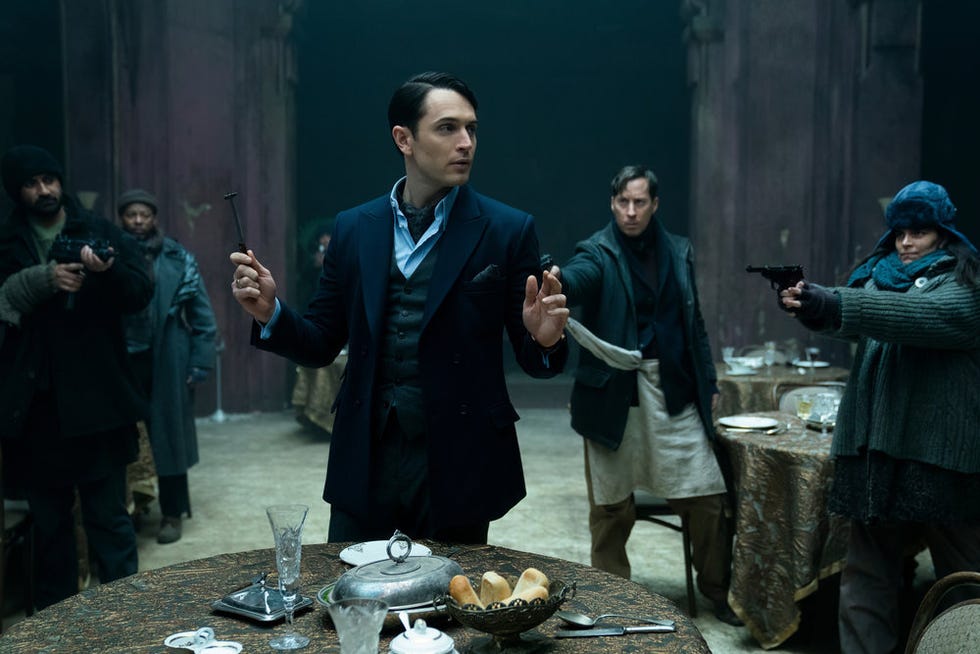 The first look at
John Wick prequel series The Continental is here and it's packed full of action.
Rewinding the clock back to an alternate 1970s, Colin Woodell (The Flight Attendant) assumes the role of Winston Scott here – played by Ian McShane across the four blood-soaked movies, the proprietor of the titular safe haven's New York branch.
In the trailer, we find a young Winston thrust into a deadly situation after his brother Frankie stole something important from Mel Gibson's criminal kingpin Cormac, then manager of The Continental NYC.
"This sacred institution wields power beyond your imagination," Cormac threatens in one scene. "Your brother took something from me… Find him, because if you don't, I'll bring the weight of this whole institution down on you both."
Related: John Wick prequel show lands premiere date
Later on, Winston and his brother are seen fighting off the various residents of The Continental during a battle for power over the notorious institution.
Over on Twitter yesterday (August 8), a short clip for the show (subtitled From the World of John Wick) gave us a blink-and-you'll-miss-it taste of the grand sets on display, plus Woodell's character simply saying: "And away we go…"
Previously Woodell teased about The Continental: "We have all the producers from the films, so we have them overseeing and there is a really strict continuity to honour those and the style that they have in them.
"But what's also wonderful is, this is the '70s, so it is going to be stylistically different."
Related: John Wick 4 ending explained: Did they really just do that?
When the project was originally confirmed, Lionsgate TV boss Kevin Beggs described the first season as "three essentially 90-minute events which you could construe as a limited series or a limited event series".
"What we're exploring in The Continental is the young Winston and how it came to be that he and his team of confederates found their way into this hotel which we have met for the first time in the movie franchise 40 years later," he shared.
"That's the arena. I won't give away more than that, but Starz really leaned into this take also, and they have been great collaborators."
The Continental is scheduled to stream on Peacock in the US and Prime Video internationally from next month. John Wick: Chapter Four is in cinemas now. The previous John Wick movies are available to buy or rent on Prime Video, plus DVD, Blu-ray and 4K Ultra HD.
Source: www.digitalspy.com