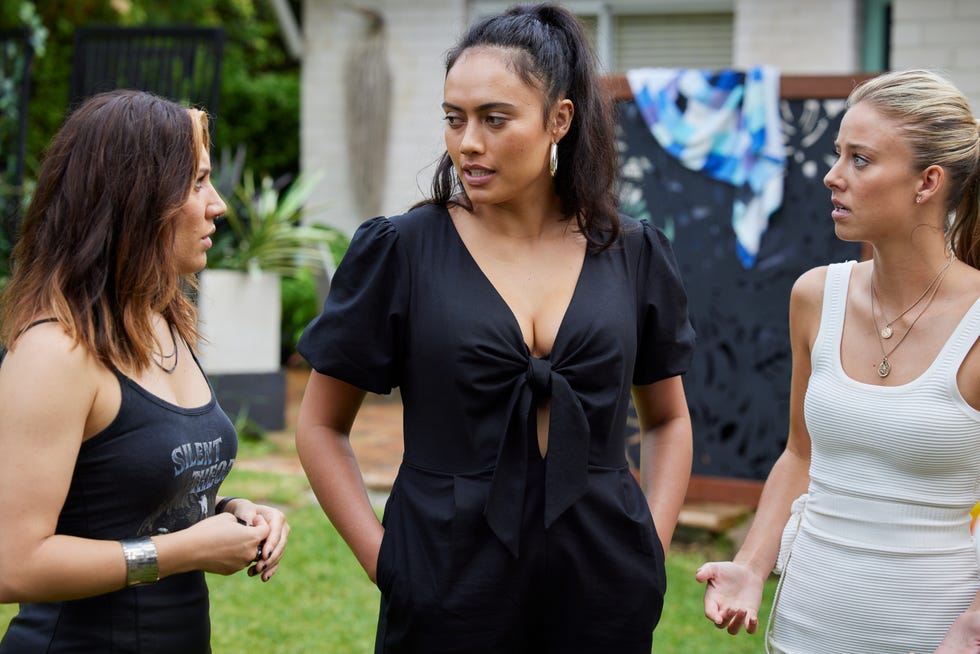 Home and Away spoilers follow from Australian-pace episodes, which some UK viewers may prefer to avoid.
Home and Away's Kirby Aramoana has vowed to quit Lyrik in the show's latest Australian episodes.
Kirby shared her big decision in Wednesday's double bill of episodes on Channel 7 (August 9), after receiving a tempting offer to go solo.
The talented musician recently had a secret meeting with record label executive Forrest, who works exclusively with solo artists.
Forrest offered to sign Kirby up for a lucrative deal, on the condition that she'd quit Lyrik to concentrate on a solo career.
Related: Home and Away's Alf Stewart to seek help over his hearing
The timing came as Kirby was already questioning her future in the band.
Working with Lyrik had been awkward for Kirby after she split from lead singer Theo Poulos, causing tensions between them.
Kirby also felt undervalued by her bandmates, noting that she took on most of the songwriting and publicity responsibilities but received little gratitude from anyone.
Theo, Remi Carter and Eden Fowler all struggled when word reached them that Kirby was likely to quit.
Related: Former Home and Away star Demi Harman welcomes first child
While Remi and Eden opposed Kirby's plans, Theo took a more selfless approach by encouraging her to do what was right for her.
In the end, Kirby visited band manager Justin Morgan at his home and confirmed that it was the end of her time in Lyrik.
She told him: "Firstly, I just want to say thanks – you have been a really, really good manager. You believe in me and you believe in my music, and honestly that means the world.
"I have to do what's right for me. I'm really sorry. I just wanted to give you the heads-up as a courtesy."
Related: Home and Away newcomers share teasers on Harper and Dana arrival
Kirby decided to take a few days away in the city following her decision, especially as Forrest was already keen to set the ball rolling on her solo career plans. However, she's sure to face the music with Lyrik once she returns.
Theo, who'd overheard Kirby and Justin's conversation from his bedroom, also wanted to clear his head and decided to spend some time away visiting his mum.
Kirby's decision leaves Lyrik with an uncertain future, as the band must now choose whether to continue as a trio or not.
Eden takes the news particularly badly, which could leave her friendship with Kirby on rocky ground.
Home and Away fans in the UK will see these scenes on Channel 5 in September.
Check out more of our Home and Away coverage:
– Home and Away to bring in two new characters in mystery story
– Home and Away releases trailer for two new characters
– Home and Away celebrates major triumph at the Logie Awards
– Home and Away star Ada Nicodemou hints at darker story for Leah Patterson
– Former Home and Away star Sam Frost puts brakes on wedding plans
Home and Away airs weekdays at 1.45pm on Channel 5 and 6pm on 5STAR. First-look screenings air at 6.30pm on 5STAR and the show also streams on My5.
In Australia, the show airs Mondays to Thursdays at 7pm on Channel 7 and streams on 7plus.
Selected classic episodes are available via Prime Video in the UK.
Read more Home and Away spoilers on our dedicated homepage
Daniel has been writing about soaps on Digital Spy since 2004 and took over as Soaps Editor in 2010.  
He has interviewed hundreds of soap stars over the years, from Bill Roache to Lacey Turner, and regularly visits the sets of Coronation Street, EastEnders, Emmerdale and Hollyoaks for behind-the-scenes trips and press events.  
He has served as an awards judge on numerous occasions for the likes of the BAFTA TV Awards, RTS Programme Awards and British Soap Awards. In 2020, he was Highly Commended for Best Section Editor at the BSME Awards.
 
Source: www.digitalspy.com