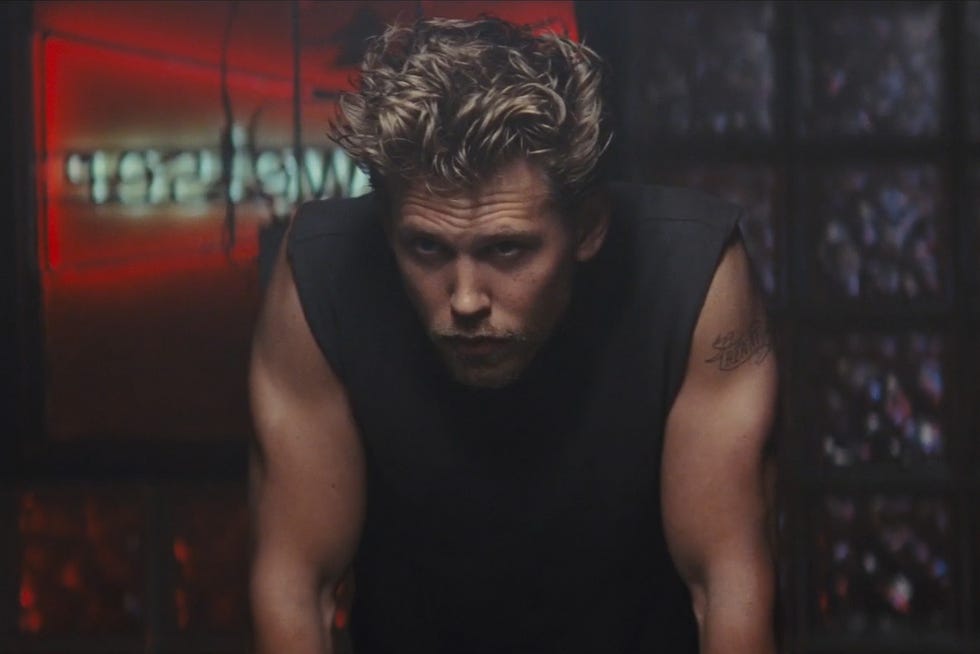 The first trailer for
The Bikeriders, starring Elvis' Austin Butler, Killing Eve's Jodie Comer and Taboo's Tom Hardy is here.
Set in 1960s Chicago, the film follows the story of Butler's Benny, a young member of biker gang the vandals and is mentored by Hardy's character Johnny, the gang's founder and current leader.
Comer stars as Kathy, Benny's wife, and the film's narrator, recounts the story of the club's rise from a rebellious group of outsiders to a dangerous and sinister gang.
Throughout the graphic trailer, we see just exactly what the gang are capable of, with various clips involving violent fights, burning down bars and facing off against opposing gangs.
"The club got real big real fast," Kathy recalls in one clip. "They started running drugs, gambling, prostitution."
There's also tension between Kathy and Johnny, as she grows wary of the gang's violent tendencies and pushes Benny to leave the group.
Related: Austin Butler says he's "getting rid" of his Elvis accent after going viral on social media
The film is inspired by filmmaker and photographer Danny Lyon's 1968 photobook of the same name, which covered the rise and fall of real-life biker gang Chicago Outlaws Motorcycle Club.
Lyon himself appears in the film (played by West Side Story's Mike Faist), as the young journalist who Kathy is telling her story.
Related: Killing Eve star Jodie Comer pulls out of play minutes into show
While The Walking Dead's Norman Reedus, Logan actor Boyd Holbrook, Bullet Train star Michael Shannon and Damon Herriman also feature.
The film is written and directed by Jeff Nichols, while Beau Knapp, Emory Cohen, Toby Wallace and Karl Glusman round out the ensemble cast.
The Bikeriders will be released in US cinemas on December 1. The UK release date has not yet been confirmed.

Reporter, Digital Spy
Brenna Cooper is a freelance journalist, who currently specialises in entertainment reporting. She joined Digital Spy in 2022, writing TV and movies stories for the site. After graduating with an NCTJ accredited Journalism Masters from the University of Sheffield in 2020 she has since embarked on a freelance career. 
Brenna previously produced lifestyle content for Checklists.co.uk and has a specific interest in music, reviewing live acts and interviewing bands such as Confidence Man and Amyl and the Sniffers.
Source: www.digitalspy.com