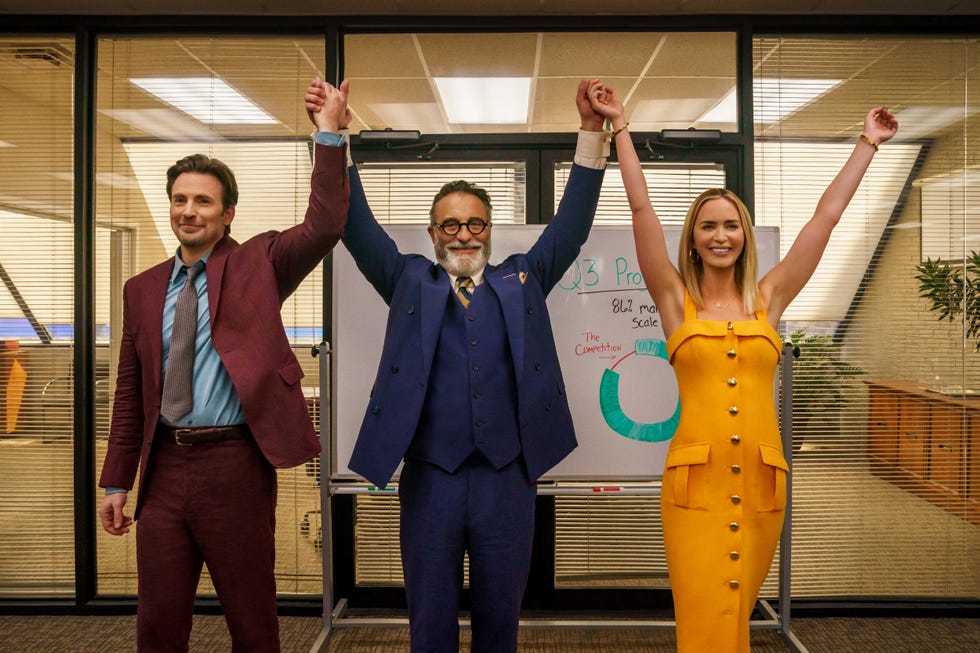 The first trailer for
Pain Hustlers, starring Chris Evans and Emily Blunt, has been released.
The upcoming Netflix drama follows Blunt's character Liza Drake, a high school dropout who wants to provide a better life for her daughter.
Liza eventually lands a job at a failing pharmaceutical startup following a chance meeting with Evan's sales rep Pete Brenner, but things take a sinister turn when she becomes involved in an illegal conspiracy.
Related: Chris Evans addresses potential MCU return following Captain America 4 rumours
Netflix's official synopsis continues: "Dealing with her increasingly unhinged boss, the worsening medical condition of her daughter and a growing awareness of the devastation the company is causing forces Liza to examine her choices."
The trailer teases Liza and Pete's lavish lifestyle at the company, while we also learn that the movie "may cause increased energy, elevated mood, ecstasy, paranoia, aggression and greed". Consider us warned.
Pain Hustlers also stars Schitt's Creek's Catherine O'Hara, Father of the Bride's Andy García, Last Christmas' Amit Shah, Transparent's Jay Duplass, West Side Story's Brian d'Arcy James and Marry Me's Chloe Coleman.
Related: Oppenheimer's Emily Blunt is happy to not play a superhero
And we might want to make the most of seeing Blunt on the big screen. The star, who recently starred in Christopher Nolan's biographical war drama Oppenheimer, revealed back in July that she's actually taking a break from acting to spend time with her family.
"This year, I'm not working. I worked quite a bit last year and my oldest baby is nine, so we're in the last year of single digits," the actress, who shares two children with husband John Krasinski, explained during an episode of iHeart's Table for Two podcast.
"And I just feel [like] there are cornerstones to their day that are so important when they're little."
Pain Hustlers will stream on Netflix from October 27.
Content Production Intern, Digital Spy
After completing her joint honours degree in Journalism and English Literature at Cardiff University, Iona joined Digital Spy as a Content Production Intern in 2022. In this role, Iona writes across both news and features, specialising in TV and movies. During her time at Digital Spy, she has interviewed multiple Love Island stars, reported from the Black Adam red carpet and, most recently, interviewed the cast of Disney's live-action The Little Mermaid.
Source: www.digitalspy.com