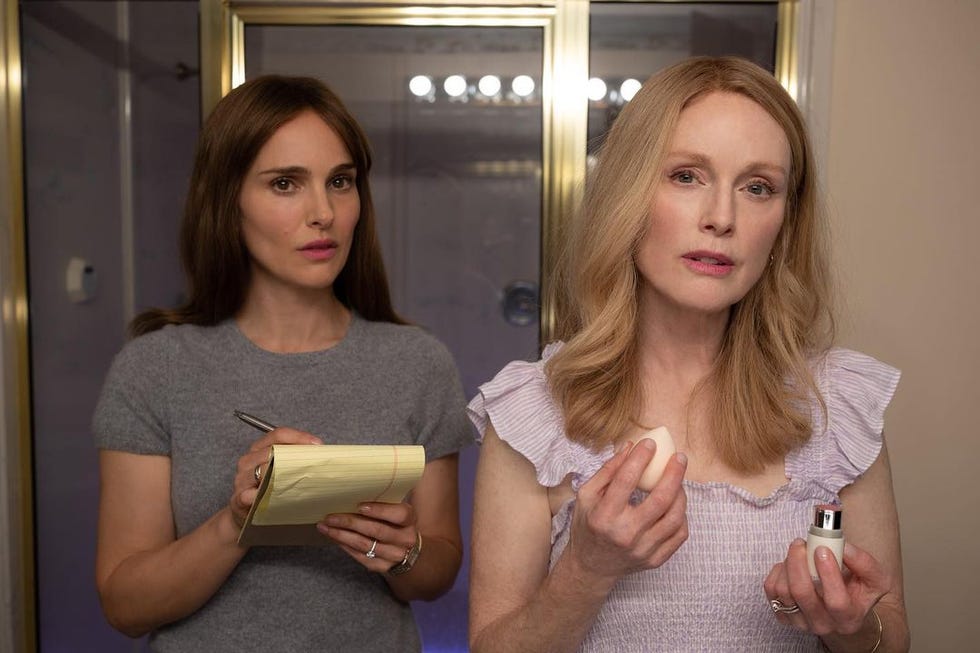 The first teaser has been released for the
critically acclaimed film May December, starring Natalie Portman and Julianne Moore.
May December will hit UK and US cinemas on November 17 before premiering on Sky Cinema in the UK and Netflix in the US on December 1.
While just under 30 seconds long, the clip manages to set the stage for intrigue as the two female leads are placed front and centre.
Related: Taika Waititi forgot Natalie Portman was in Star Wars
Directed by Todd Haynes (Velvet Goldmine, Far from Heaven), May December stars Portman as Elizabeth Berry, a Hollywood actress cast in the true crime story of a woman who became romantically involved with a man 23 years her junior and gave birth to their baby behind bars.
Two decades after the couple was plastered all over the tabloids, Elizabeth travels to Georgia to meet Gracie (Moore) and her husband Joe (Charles Melton) and see how their lives are now.
Gracie, now in her sixties, is dealing with her twin children about to leave home for university. And while the couple still receives hate mail, they're also seemingly well-liked within their local community.
However, as Elizabeth goes deeper into her research, the lines between her and Gracie's lives begin to blur.
The film had its world premiere at the Cannes Film Festival in May, receiving critical acclaim with particular praise for Moore and Portman's performances.
Meanwhile, after returning to the MCU in Thor: Love and Thunder, Portman has shared whether she'd return to another major franchise: Star Wars.
Portman appeared in George Lucas' three Star Wars prequels as Padmé Amidala, the mother of Luke Skywalker and Leia Organa, who died at the end of Revenge of the Sith after giving birth.
Speaking about returning to the franchise, Portman said: "No one's ever asked me to return, but I'm open to it."
May December arrives in UK and US cinemas on November 17 before premiering on Sky Cinema in the UK and Netflix in the US on December 1.

Reporter, Digital Spy 
Stephanie is a writer who specialises in pro wrestling, covering everything from AEW and WWE to NJPW. 
After graduating with a degree in history from Queen Mary University, London, she went on to study journalism at Birbeck University. 
Outside of her journalism work Stephanie is also a YouTube content creator focusing on AEW and interviewing talent from AEW, WWE, and across the indie wrestling scene. She has also worked for Revolution Pro Wrestling as a backstage interviewer and commentator.
Source: www.digitalspy.com