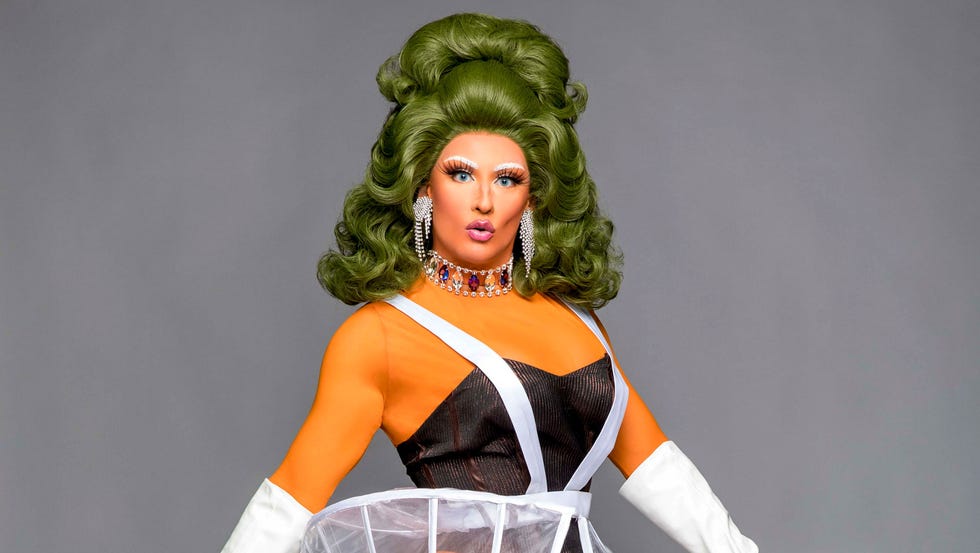 Drag Race UK star Ella Vaday was a fan favourite during her season 3 run, and many viewers are keen to see her return to the franchise.
However, it seems she may not have time in her jam-packed schedule because Ella has a busy few months ahead of her.
The queen is soon set to star in ITV's The Real Full Monty, will appear in Adam Deacon's new movie Sumotherhood, and is launching her very own fitness website called FITTI.
Related: Drag Race UK confirms series 5 guest judges – including Yasmin Finney
Chatting exclusively to Digital Spy, Ella said it's "wonderful" to see so many different Drag Race spin-offs on screen, but she's not sure if she'll be returning for an All Stars stint any time soon.
"At the moment, I've got so many amazing things going on," she explained to us. "I'm launching FITTI, I've got a film coming out in October, and I'll be back on the TV at Christmas time.
"So, for me right now, I think I'm not ready to go back to Drag Race. I would like to carry on striving and having a great time doing what I'm doing currently. You know, building my business and building my brand."
Related: RuPaul's Drag Race Down Under season 3 sees a franchise first
Reflecting on her 2019 Drag Race experience, Ella confessed the competition involved a lot of hard work.
"Drag Race is very intense experience," she explained. "Obviously, I had a great time. Unfortunately, for the finale I was so injured and so exhausted that it really did affect my finale, as well as the costume issues I had.
"So, yeah, I think I'm just good where I am now. I'm in a really good place and I feel fitter and healthier than ever."
Related: RuPaul's Drag Race and All Stars renewed for new seasons
However, Ella revealed a return to the Drag Race runway may be possible in the future.
"For now I'm just going to stay in the lane I'm in, which seems to be going well," the queen remarked. "Maybe one day [I'll come back to Drag Race]. To put it short, never say never but not right now."
In the meantime, Ella's keeping her focus on her new fitness website FITTI which she can't wait to launch later this month.
"I'm just really excited to bring this to everyone," she enthused. "It's really unique, there's nothing like it."
FITTI, is out on September 18th. For more details, visit www.fittiplan.com.
RuPaul's Drag Race UK airs on BBC Three in the UK and streams on WOW Presents Plus in the US.
Interested in talking about all things Drag Race? Visit our dedicated sub-forum

Acting News Editor, Digital Spy
Emma is an experienced entertainment news journalist with NCTJ accreditation and a First-Class Honours Degree in Journalism. Having started her career as a broadcast journalist, Emma's voice has been heard on varying radio stations across the UK including Absolute, Magic, BBC Three Counties Radio, LBC London News and more.  
Later specialising in multimedia entertainment news, Emma has brushed shoulders with numerous famous faces and interviewed the likes of Edward Norton, Margot Robbie, Sir Michael Palin, Rick Astley, and too many soap stars to count. Having produced a range of engaging news content over the years for brands such as 7Digital's Entertainment News, Yahoo, and Express Online, Emma eventually joined Digital Spy in 2022 as Deputy News Editor.  While she's gained lots of praise during celebrity interviews throughout her career, the most memorable compliment Emma's ever received was when a Game of Thrones star remarked "Your teeth are stunning!".
Source: www.digitalspy.com