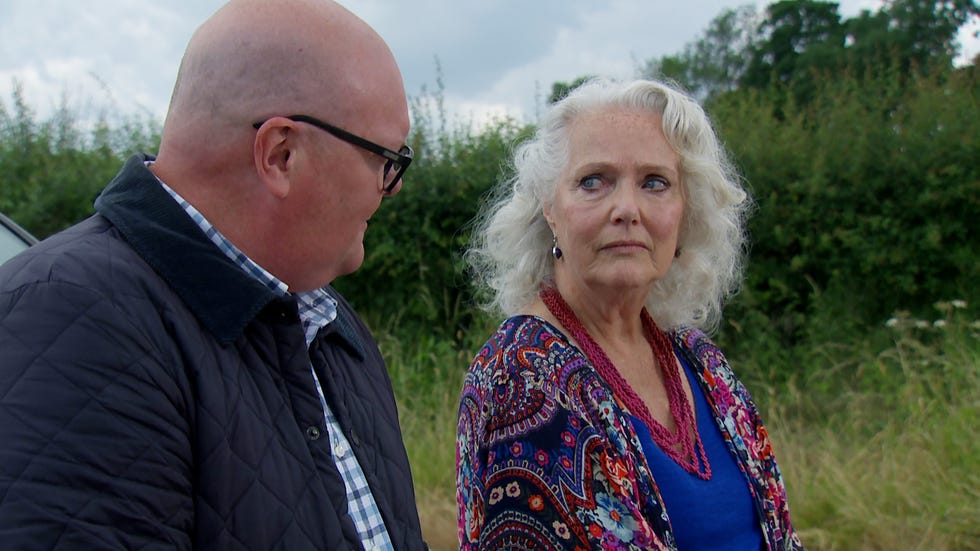 Emmerdale spoilers follow.
Emmerdale airs sad scenes for Paddy and Marlon Dingle in Monday's episode (August 21) as their close friendship comes under threat.
Paddy inadvertently upsets Marlon as he steps in to support Mary Goskirk, who's struggling with her confidence after her ordeal with con artist Faye Helders.
Mary has recently told her daughter Rhona and son-in-law Marlon that she's back on the dating scene and ready to move on from the Faye incident.
However, Paddy discovers this isn't true when he drives along a country road and spots Mary sobbing alone in a field.
Related: Emmerdale star Matthew Wolfenden exits soap after 17 years
Mary confides in Paddy about how she has been pretending to go on dates to impress Rhona and Marlon.
In reality, Mary doesn't feel comfortable getting back on the dating scene after Faye conned her and leaked an intimate photo.
As Paddy spends time consoling Mary, he ends up being late to meet up with Marlon. Paddy had agreed to join Marlon on a drive, as The Woolpack chef continues to adjust to getting back behind the wheel following his stroke.
Marlon feels snubbed by Paddy and makes his feelings clear, sparking a row that risks the future of their friendship.
Related: Emmerdale star Dominic Brunt reveals emotional new Paddy scenes
Discussing the tensions, Mark Charnock – who plays Marlon – recently explained: "It is bad luck as much as anything. Paddy keeps offering to help Marlon with the driving and everybody knows Paddy is the ideal person that needs to help Marlon with it.
"But they keep making these dates but every time, different circumstances screw them up – to the point that they end up having rows about it: 'You've let me down'. 'No you've let me down'.
"Of course Paddy can't tell him that it is because he's been looking after Mary, and Paddy also can't tell him that he's going through his own stuff – because he doesn't want Marlon to worry.
"So Paddy is an innocent in all this, really. Paddy suffers as a result, as Marlon tells him he's let him down when really he's been helping to look after Mary."
Check out more of our Emmerdale coverage:
– Emmerdale star Mark Charnock reveals Marlon Dingle's role in special episode
– Emmerdale star Zoe Henry explains why Rhona Goskirk hits breaking point
– Emmerdale star Louise Jameson reveals turning point in Mary's storyline
– Emmerdale star Liam Fox explains Dan Spencer's exit
– 13 huge Emmerdale spoilers for next week
Emmerdale airs on weeknights at 7.30pm on ITV1, and streams on ITVX.
Read more Emmerdale spoilers on our dedicated homepage.
Daniel has been writing about soaps on Digital Spy since 2004 and took over as Soaps Editor in 2010.  
He has interviewed hundreds of soap stars over the years, from Bill Roache to Lacey Turner, and regularly visits the sets of Coronation Street, EastEnders, Emmerdale and Hollyoaks for behind-the-scenes trips and press events.  
He has served as an awards judge on numerous occasions for the likes of the BAFTA TV Awards, RTS Programme Awards and British Soap Awards. In 2020, he was Highly Commended for Best Section Editor at the BSME Awards.
 
Source: www.digitalspy.com