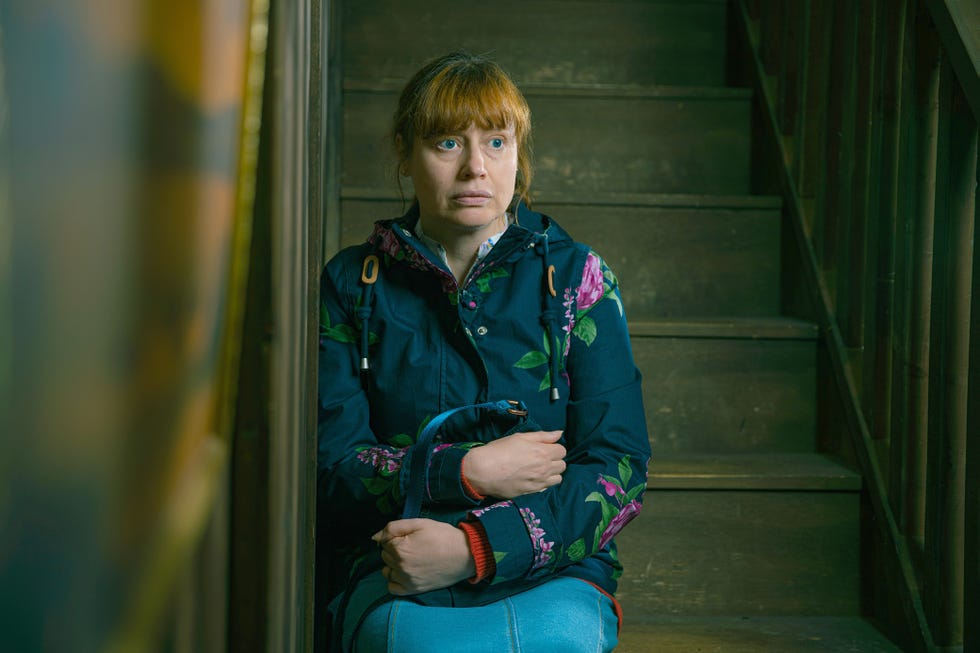 This story discusses topics including loss of a child and sexual assault.
Emmerdale spoilers follow.
Emmerdale has revealed the full details of Lydia Dingle's devastating storyline.
Soap bosses have been working with Rape Crisis England and Wales on an issue-based story where Lydia is sexually assaulted by her childhood friend Craig.
The two have been reunited years after they lost a child together, and while they will have some catharsis, Craig's dark intentions will become clear in upcoming scenes.
Related: Emmerdale star Lisa Riley responds to Lydia Dingle storyline announcement
Next week, Lydia and Sam are surprised when Craig suddenly returns to Wishing Well without any warning. Craig wants to talk through his past with Lydia and she agrees to take him to their late child's resting place.
The two will share moving scenes overlooking the area where their child's ashes were spread, leading to a charged moment where they nearly share a kiss.
Lydia is determined to keep her kiss secret from Sam, leading her to snap at friend Kim Tate at Home Farm when she's about to open up about the experience with Craig.
She goes to Craig's office to hand in her resignation letter, but is surprised when Craig explains how much it has meant to him to have some closure on their past.
In the wake of Craig's emotional outpouring, Lydia relucantly takes back her resignation. However, the situation takes a very dark turn when Craig suddenly turns aggressive and forces himself on Lydia.
Lydia is understandably left in a state of shock by Craig's attack, especially as he insists on driving her back home to Sam.
Once she gets back home, Lydia withdraws to her bedroom and sobs after declining a call from Craig. Lydia tries to shut away the pain by hiding the clothes she was wearing and insisting on keeping the rape a secret from her loved ones.
In the coming months, Lydia's friends and family will become alarmed by her withdrawing from them as she struggles to process what she's been through.
Speaking about this storyline, cast member Karen Blick has said: "Lydia's rape is one of the most important and sensitive stories I have been part of during my time in Emmerdale. The research, preparation and aftermath of this story has been challenging and eye-opening for me.
"One in four women have been raped or sexually assaulted as an adult, and after reading this statistic, I found myself standing in the canteen at ITV looking around as that figure really shocked me."
Emmerdale airs on weeknights at 7.30pm on ITV1, and streams on ITVX.
Read more Emmerdale spoilers on our dedicated homepage.
---
If you've been affected by the issues raised in this story, you can access more information from Rape Crisis England and Wales, who work towards the elimination of all forms of sexual violence and sexual misconduct, on their website or by calling the National Rape Crisis Helpline on 0808 802 9999. Rape Crisis Scotland's helpline number is 08088 01 03 02.
Readers in the US are encouraged to contact RAINN, or the National Sexual Assault Hotline on 800-656-4673.
---
Organisations including Sands and Tommy's are able to offer help and support to anyone affected by baby loss.

Night News Editor
Justin has been with Digital Spy since 2010, and in that time, has covered countless major news events for DS from the US. 
He has worked previously as both a reporter and sub editor for the brand, prior to taking on the position of Night News Editor in 2016. 
Over more than a decade, he has interviewed a wide-ranging group of public figures, from comedian Steve Coogan to icons from the Star Trek universe, cast members from the Marvel Cinematic Universe and reality stars from numerous Real Housewives cities and the Below Deck franchise. As a US contributor to Digital Spy, Justin has also been on the ground to cover major pop culture events like the Star Wars Celebration and the D23 Expo.
Source: www.digitalspy.com