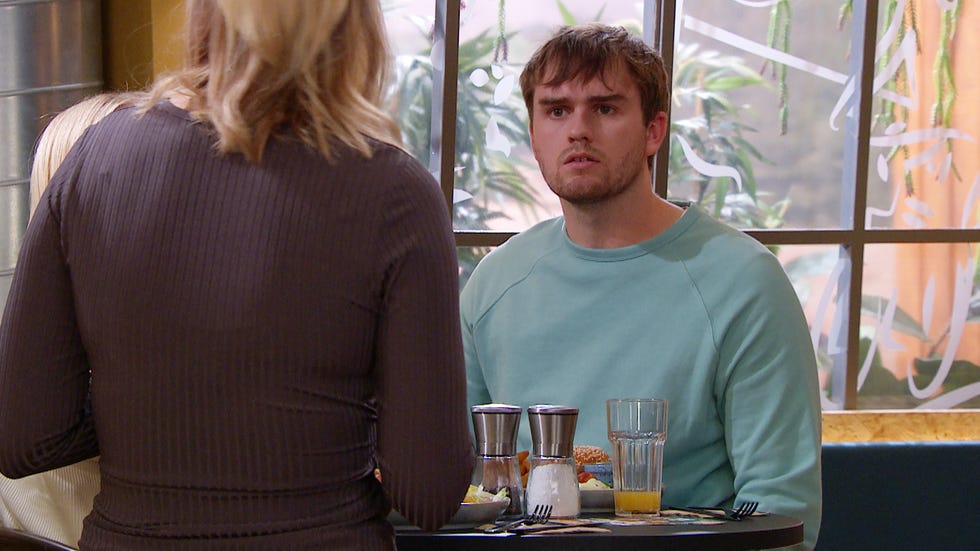 Emmerdale spoilers follow.
Emmerdale's Tom King will face a shock mugging next week, just as his relationship with Belle Dingle faces a new hurdle.
The attack comes just as Tom is contemplating his life in the village following the death of Rishi Sharma. As Rishi's lodger at Holdgate Farm, Tom realises he needs to find somewhere new to stay and considers moving away from the village.
Tom's revelation causes Belle to fear that he's not invested in their relationship and her insecurity worsens when she notices chemistry between Tom and Dawn Fletcher.
When Tom decides to take Dawn out for a drive in his flashy new car, Belle is less than impressed.
Related: Emmerdale's Cain Dingle and Caleb Miligan face a surprising turning point
Dawn is keen to put Belle's mind at ease and invites Tom and Belle on a double date with her and her husband Billy. Belle reluctantly agrees, but later during their date, it's not long before tensions arise.
As Dawn's attempts at making peace go awry, Belle decides to make a hasty exit with Tom following behind.
However, Tom is soon called out on a vets call and as he prepares to leave in his new car, he is confronted by a thug who demands his car keys.
Related: Emmerdale star Flo Wilson teases Claudette's shock discovery over Victor
Tom refuses to give into the threat and stands his ground but the situation quickly escalates, and Tom is hit on the head by a second attacker. The duo kick Tom before making a getaway in his car.
Horrified, Belle stumbles upon the scene and calls the police. Will Tom be okay – and will the attack bring him closer to Belle or drive them further apart?
Check out more of our Emmerdale coverage:
– Emmerdale announces new issue-based storyline for Lydia Dingle
– Emmerdale star Lisa Riley responds to Lydia Dingle storyline announcement
– Emmerdale's Victor Anderson to flee after theft allegations
– Emmerdale confirms return storyline for Gabby Thomas
– Emmerdale's Charity Dingle and Liam Cavanagh in romantic twist
– Emmerdale's executive producer Jane Hudson to stand down after five years
Emmerdale airs on weeknights at 7.30pm on ITV1, and streams on ITVX.
Read more Emmerdale spoilers on our dedicated homepage.
Source: www.digitalspy.com