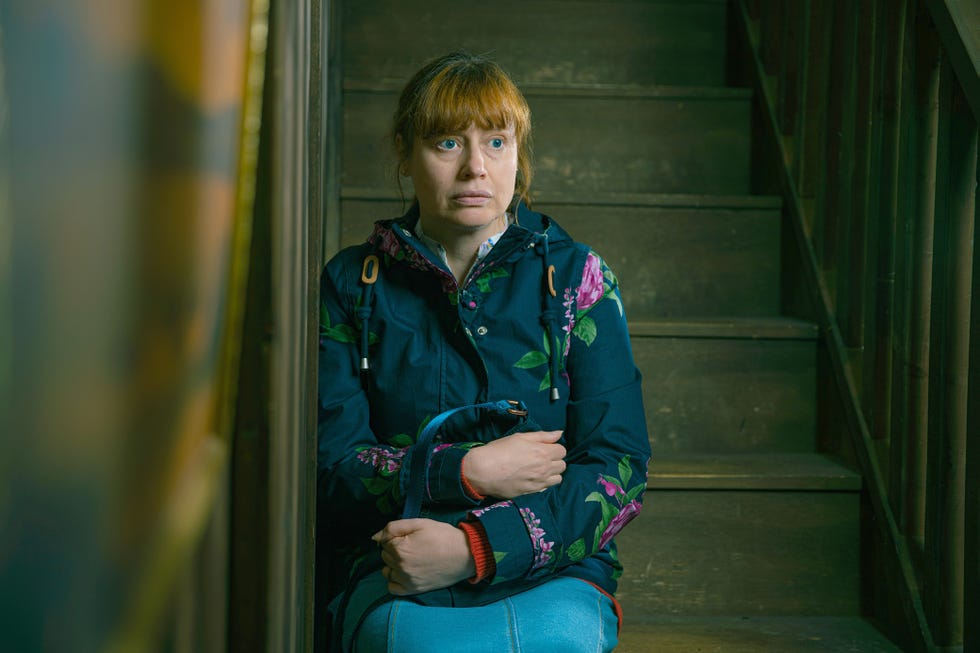 The following article contains discussion of sexual assault.
Emmerdale spoilers follow.
Emmerdale has aired the heartbreaking aftermath of Lydia Dingle's rape.
Earlier this week, Lydia was sexually assaulted by her childhood friend Craig after they'd reconnected and bonded over the loss of their son.
Craig pretended what he'd done was consensual, so Lydia chose to keep it a secret. The trauma was already starting to manifest though, as she broke down in tears while in the shower.
Related: Emmerdale teases new Cain Dingle mystery in 21 spoiler pictures
In Wednesday's (September 6) episode, Lydia tried to carry on as if nothing had happened but was understandably having to hold herself together at all times.
Kim Tate noticed something was off with Lydia at Home Farm, so she asked what had happened when she'd seen Craig the previous day. Lydia stopped short of telling Kim the truth, instead insisting she was stressed from "things piling up" with Craig.
"You're too nice for your own good, Lydia. Men like Craig shouldn't take advantage," Kim told her. "You should stand up for yourself more. He can't be getting away with it."
Elsewhere, Craig was caught by Sam snooping around Wishing Well Cottage but played it off like he was simply looking for Lydia.
Related: Emmerdale star Karen Blick explains early reservations over Lydia story
Sam invited Craig out for a pint, and though he was clearly uncomfortable, Craig agreed. Craig tried to win over Sam by inviting Samson to do work experience later in the year.
Craig offered a toast to Lydia, with a still-unsuspecting Sam doing the same. Shortly after, Lydia was shown on the phone booking a taxi to the police station.
Lydia reeled with horror when she found out Craig had invited Samson to work with him during his drink with Sam at the pub.
In the final scene of the night, Lydia was shown venturing through the woods instead of going to the police station. She pulled her clothes from the night of the attack out of a backpack and burned them.
Lydia once again began weeping as she watched the flames burn her clothing. Will she be able to open up to Sam about what she's been through?
Emmerdale airs on weeknights at 7.30pm on ITV1, and streams on ITVX.
Read more Emmerdale spoilers on our dedicated homepage.
---
If you've been affected by the issues raised in this story, you can access more information from Rape Crisis England and Wales, who work towards the elimination of all forms of sexual violence and sexual misconduct, on their website or by calling the National Rape Crisis Helpline on 0808 802 9999. Rape Crisis Scotland's helpline number is 08088 01 03 02.
Readers in the US are encouraged to contact RAINN, or the National Sexual Assault Hotline on 800-656-4673.

Night News Editor
Justin has been with Digital Spy since 2010, and in that time, has covered countless major news events for DS from the US. 
He has worked previously as both a reporter and sub editor for the brand, prior to taking on the position of Night News Editor in 2016. 
Over more than a decade, he has interviewed a wide-ranging group of public figures, from comedian Steve Coogan to icons from the Star Trek universe, cast members from the Marvel Cinematic Universe and reality stars from numerous Real Housewives cities and the Below Deck franchise. As a US contributor to Digital Spy, Justin has also been on the ground to cover major pop culture events like the Star Wars Celebration and the D23 Expo.
Source: www.digitalspy.com