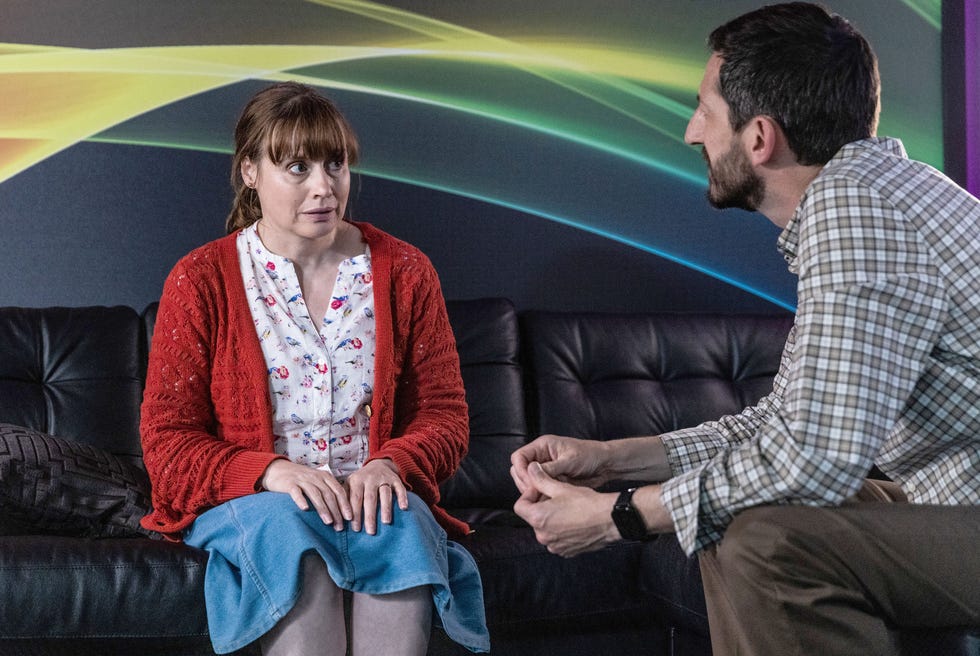 The following article contains discussion of sexual assault.
Emmerdale spoilers follow.
Emmerdale has aired devastating scenes of Lydia Dingle being sexually assaulted by her childhood friend Craig Reed.
The issue-based storyline unfolded after Lydia and Craig reconnected to mourn the son they'd lost together, leading to a charged moment between them.
In Tuesday's episode (September 5), Lydia remained conflicted over her romantic moment with Craig the previous day and decided it best to hand in her resignation.
Related: Emmerdale teases new Cain Dingle mystery in 21 spoiler pictures
Craig tried to talk her out of resigning by explaining how much it had meant for them to share a solemn moment together in honour of their late child, since his own life has been largely disappointing.
"I don't think you realise how much yesterday meant to me. Being with you, mourning our son. I'll never forget it," he insisted. "You made a lonely man very happy."
His words moved Lydia enough to withdraw her resignation, though she was instantly unsure over whether she'd done the right thing.
Craig then turned aggressive, telling Lydia he'd never stopped loving her and then forcibly kissed her. Lydia begged Craig to stop as he began assaulting her.
"I don't want to," she told him.
Related: 9 huge Emmerdale spoilers for this week
The soap cut back in the aftermath of Craig's attack, as he continued trying to suggest it had been a consensual moment. Lydia frantically asked to go home, but Craig insisted on driving her.
"It's rough at this end of town. You don't want to be out on your own. Anything could happen," he told Lydia.
Lydia kept her emotions in check on the drive home, and once they got back to Emmerdale, Craig told Lydia to keep what happened strictly between the two of them. Once Lydia got home, she made an excuse to go up to her bedroom and broke down in tears in the shower.
In the coming weeks, viewers will follow as Lydia's friends and family grow concerned with her withdrawn behaviour because she chooses not to tell any of them what she's been through. Will Lydia eventually let her loved ones in?
Emmerdale airs on weeknights at 7.30pm on ITV1, and streams on ITVX.
Read more Emmerdale spoilers on our dedicated homepage.
---
If you would like more information on real-life issues behind Lydia's storyline in Emmerdale, the soap is working with Rape Crisis — which offers a Sexual Abuse Support Line on 0808 500 2222 24 hours a day, or online at 247sexualabusesupport.org.uk. Rape Crisis Scotland's helpline number is 08088 01 03 02.
Readers in the US are encouraged to contact RAINN, or the National Sexual Assault Hotline on 800-656-4673.

Night News Editor
Justin has been with Digital Spy since 2010, and in that time, has covered countless major news events for DS from the US. 
He has worked previously as both a reporter and sub editor for the brand, prior to taking on the position of Night News Editor in 2016. 
Over more than a decade, he has interviewed a wide-ranging group of public figures, from comedian Steve Coogan to icons from the Star Trek universe, cast members from the Marvel Cinematic Universe and reality stars from numerous Real Housewives cities and the Below Deck franchise. As a US contributor to Digital Spy, Justin has also been on the ground to cover major pop culture events like the Star Wars Celebration and the D23 Expo.
Source: www.digitalspy.com