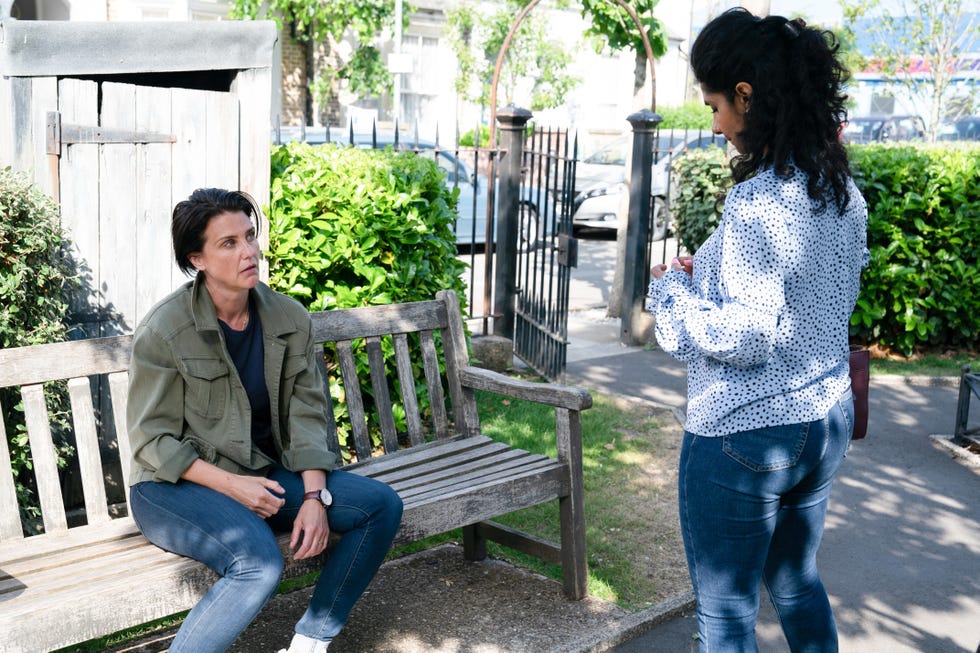 EastEnders spoilers follow.

EastEnders isn't airing tonight (August 21st), but don't worry as there is still a way to watch the episode.
The Walford soap is facing schedule changes across the week on BBC One.
EastEnders will make way for the World Athletics Championships, as BBC One's evening schedule airs live coverage from Budapest.
Related: EastEnders star Heather Peace teases Suki's role in Eve's big storyline
As a result, EastEnders will not broadcast tonight but will screen a double bill from 7pm on Tuesday, August 22. EastEnders will not air on Wednesday, August 23 either, but will return with another double bill from 7pm on Thursday, August 24.
Fortunately, fans who prefer their daily fix won't need to miss out as tomorrow night's episode is already up and available to watch on iPlayer right now.
A BBC spokesperson confirmed to Digital Spy last week that EastEnders episodes will be released each day on iPlayer as usual.
The scenes will explore the aftermath of Eve's huge fallout with Stacey, as Suki finds her sleeping rough on a bench after a drunken night. They have a heart-to-heart about the death of Eve's sister, before heading to the police station to discuss the matter.
Related: EastEnders references 'forgotten' Alfie Moon story in latest episode
Sadly for Eve, the police tell her that Caz has served her time, and the case is now closed.
Eve is furious and immediately hits the bottle again. She later heads off to meet Caz…
Meanwhile, Phil encourages Alfie to open up about his health, while Anna leaves a message for her mum, revealing that she's in Walford.
EastEnders has been airing most episodes early on BBC iPlayer since last year, with 6am daily releases allowing fans to watch at their own pace.
Check out more of our EastEnders coverage:
– EastEnders schedule changes ahead for big Beale family week
– EastEnders to revisit Phil Mitchell's past in Alfie cancer story
– EastEnders' Ian Beale to be left panicked over Cindy return decision
– EastEnders to air dark twist in Eve Unwin's story
– EastEnders reveals full details on Peter Beale's return to Walford
– EastEnders references 'forgotten' Alfie Moon story in latest episode
– EastEnders star Heather Peace teases Suki's role in Eve's big storyline
EastEnders airs on Mondays – Thursdays at 7.30pm on BBC One. The show also streams on BBC iPlayer.
Read more EastEnders spoilers on our dedicated homepage.


Deputy Soaps Editor 
Sophie is an award-winning journalist with over a decade of experience as a writer.  Previously at BT.com, where she had her own Reality TV column, Sophie joined the Digital Spy soaps team in 2013 and won the Unsung Hero of the Year award at the PPA Awards in 2022. 
Over the years, she has written hundreds of articles about the Carters, the Dingles and even Wellard the dog, and has created a number of the site's video franchises.  Sophie hosted Digital Spy's first ever podcast 'Soap Scoop' back in 2020, where she spoke to the likes of Alan Fletcher (aka Doctor Karl) and Lisa Riley, has been interviewed on on podcasts and live radio and has represented the company on the panel of the British Soap Awards.
Source: www.digitalspy.com