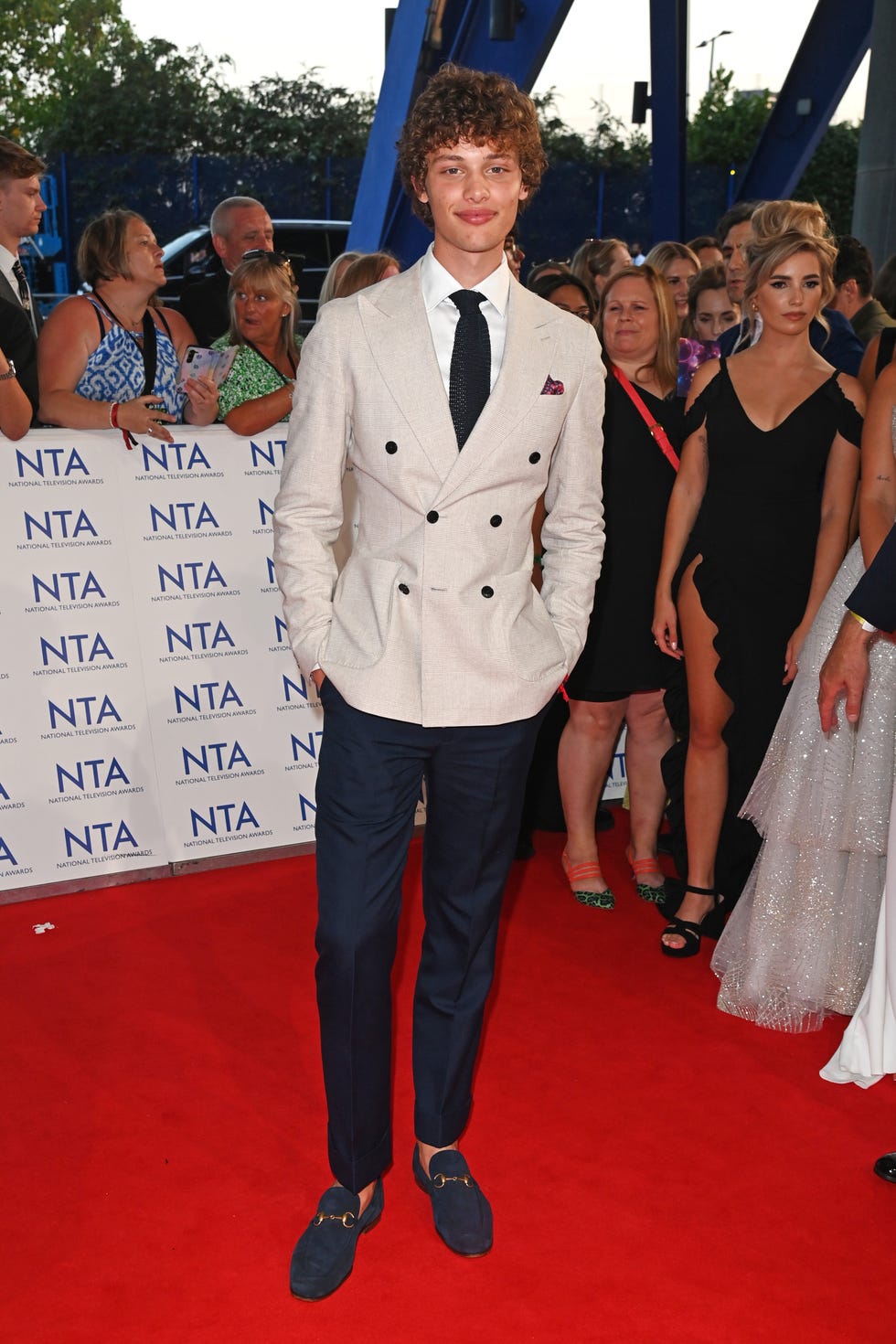 EastEnders' Bobby Brazier has revealed which actors he looks up to on set following his win at this year's National Television Awards (NTAs).
The actor joined the cast of EastEnders in the role of Freddie Slater in 2022, earning the award the Rising Star award at last night's (September 5) ceremony. Brazier was up against fellow soap stars Lewis Cope (Emmerdale) and Channique Sterling-Brown (Coronation Street) as well as The Devil's Hour's Benjamin Chivers.
Speaking to Digital Spy and other press following his win, Brazier opened up on who his mentors on set are, revealing the extended Slater family holds a special place in his heart.
Related: EastEnders' Danielle Harold wins NTA for Lola's exit storyline
"Everyone for different reasons… " he said when asked about his inspirations among his co-stars.
"I love Clay [Milner Russell] so much. [He's] one of my best friend, on and off screen," Brazier said of the Bobby Beale actor.
"Lacey Turner, who's just a diamond […] Lillia Turner, who's such an inspiration. She's so young and she's so good," he then said of onscreen mother-daughter duo Stacey and Lily Slater.
Related: EastEnders wins Best Serial Drama at NTAs 2023
Ever since his first Walford appearance last year, Brazier's character Freddie has been involved in many a dramatic storyline.
Earlier this summer, Freddie learnt the truth about his birth father Graham Foster from Kat Slater.
After tracking down Graham, Freddie met up with him under the guise of buying a car from him. Their meeting forced a concerned Kat to tell her nephew that evil Graham had raped Freddie's mum Little Mo 18 years prior, leaving the teen horrified.
EastEnders airs on Mondays – Thursdays at 7.30pm on BBC One. The show also streams on BBC iPlayer.
---
Read more EastEnders spoilers on our dedicated homepage

Reporter, Digital Spy
Stefania is a freelance writer specialising in TV and movies. After graduating from City University, London, she covered LGBTQ+ news and pursued a career in entertainment journalism, with her work appearing in outlets including Little White Lies, The Skinny, Radio Times and Digital Spy. 
Her beats are horror films and period dramas, especially if fronted by queer women. She can argue why Scream is the best slasher in four languages (and a half). 
TV writer, Digital Spy Janet completed her Masters degree in Magazine Journalism in 2013 and has continued to grow professionally within the industry ever since.  For six years she honed her analytical reviewing skills at the Good Housekeeping institute eventually becoming Acting Head of Food testing.  She also freelanced in the field of film and TV journalism from 2013-2020, when she interviewed A-List stars such as Samuel L Jackson, Colin Firth and Scarlett Johansson. In 2021 she joined Digital Spy as TV writer where she gets to delve into more of what she loves, watching copious amounts of telly all in the name of work. Since taking on the role she has conducted red carpet interviews with the cast of Bridgerton, covered the BAFTAs and been interviewed by BBC Radio and London Live. In her spare time she also moonlights as a published author, the book Gothic Angel.
 
Source: www.digitalspy.com