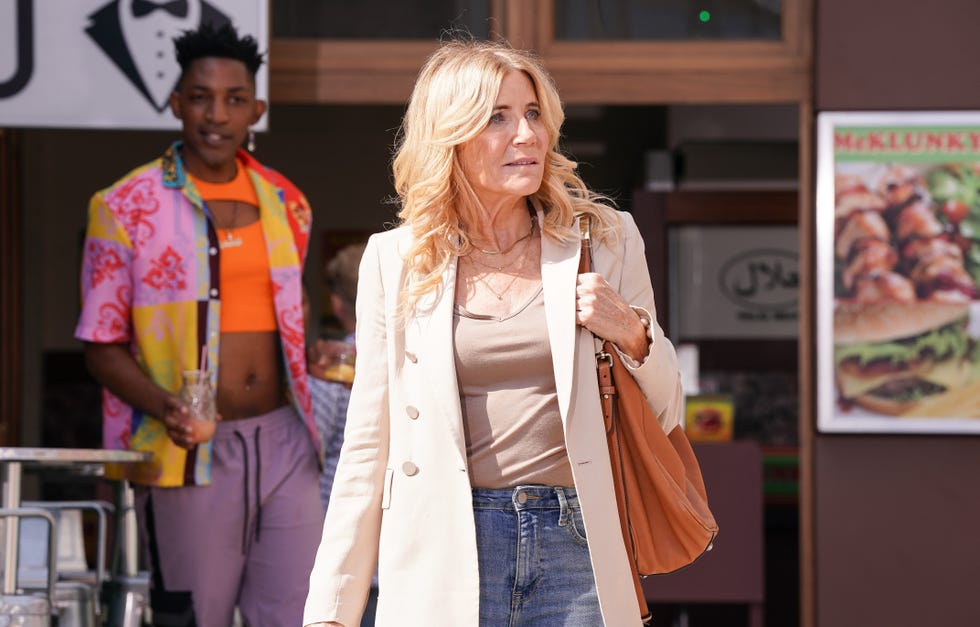 EastEnders spoilers follow for Tuesday's BBC iPlayer episode (August 29). Some readers may prefer to avoid these storyline details as the episode hasn't yet aired on BBC One.
EastEnders aired a surprise return for Arthur "Fatboy" Chubb in today's episode (August 29).
Tuesday's visit to Walford, which is available to watch on BBC iPlayer, saw viewers transported back to April 2014, as part of Cindy's ongoing return story.
Cindy had come face-to-face with her estranged husband George in Monday's cliffhanger, after making her much-anticipated return to the Square.
Cindy desperately tries to explain herself as the fallout continues, telling George why she left him and their daughters so suddenly nine years ago.
A flashback scene then shows Cindy learning of her daughter Lucy's death in 2014, prompting her to leave Spain and head to Walford.
Cindy can then be seen watching from afar as Ian prepares to tell Peter the devastating news, but is stopped in her tracks by her witness protection handler DCI Mary Nicholls, who urges her to reconsider what she's planning.
As they speak in a nearby street, Mary tells Cindy that she would be putting the Beales in danger if she got into contact with them.
To make things even more complicated, Mary explains that the criminal Ford family could now potentially follow Cindy back to Marbella where the Knights are, meaning she couldn't return there either.
During this conversation, Cindy and Mary are briefly interrupted by Fatboy, who enquires about the time because his phone is broken.
Ricky Norwood's character Fatboy hasn't been seen on screen since he supposedly met a grisly end in a shocking story back in 2015.
Fatboy was kidnapped in a case of mistaken identity by the henchmen working for Ronnie Mitchell.
Believing he was Vincent – who was Ronnie's real target – they locked Fatboy in the boot of the car, which was later crushed.
Vincent later kept Fatboy's tragic fate from Ronnie, even forging postcards to Dot Branning which made it seem like he had left the country of his own accord.
However, last December, fans spotted a clue that Fatboy could be alive during Dot's funeral episodes.
A message in a condolence card read by Dot's great-nephew Reiss Colwell said: "Mrs B – Forever in my heart. Arthur x."
EastEnders airs on Mondays – Thursdays at 7.30pm on BBC One. The show also streams on BBC iPlayer.
Read more EastEnders spoilers on our dedicated homepage.

Deputy Soaps Editor 
Sophie is an award-winning journalist with over a decade of experience as a writer.  Previously at BT.com, where she had her own Reality TV column, Sophie joined the Digital Spy soaps team in 2013 and won the Unsung Hero of the Year award at the PPA Awards in 2022. 
Over the years, she has written hundreds of articles about the Carters, the Dingles and even Wellard the dog, and has created a number of the site's video franchises.  Sophie hosted Digital Spy's first ever podcast 'Soap Scoop' back in 2020, where she spoke to the likes of Alan Fletcher (aka Doctor Karl) and Lisa Riley, has been interviewed on on podcasts and live radio and has represented the company on the panel of the British Soap Awards.
Source: www.digitalspy.com