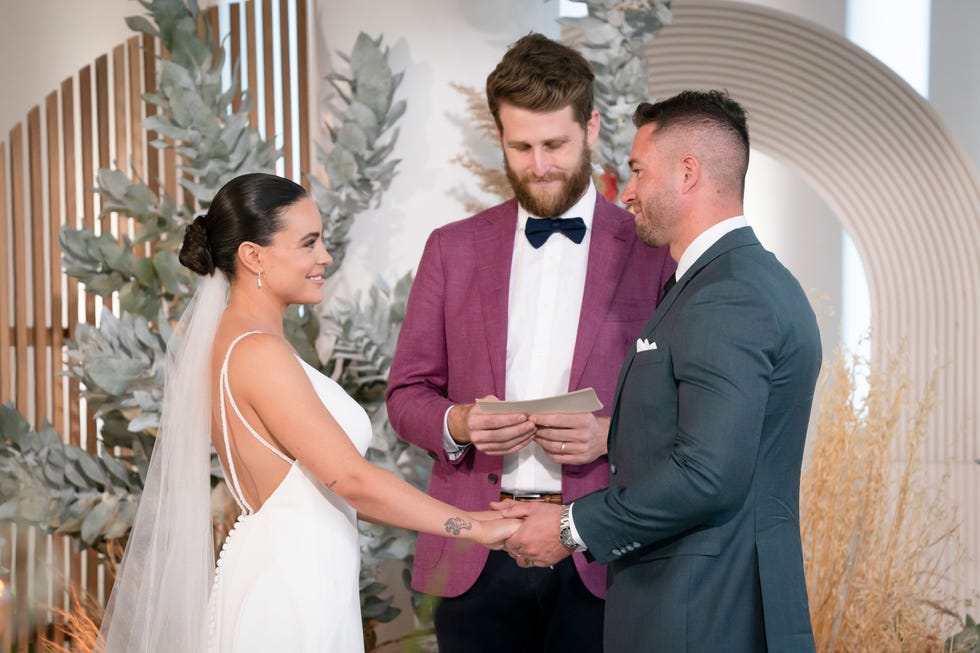 E4 has commissioned a dating show, Love Triangle, from the producers of
Married at First Sight Australia.
Love Triangle is set to bring the drama as six single contestants choose between two potential partners. While one match embodies each single's usual type, the other reflects their deeper romantic needs.
Presented with limited choice, as opposed to the virtually infinite options offered by dating apps, the contestants have 48 hours to get to know their two suitors via text before making a decision on who to take on a date.
Related: MAFS star Jesse Burford debunks show "myth"
But there's a twist. After the contestant and their chosen one go on a blind date and move in together, the rejected suitor will make a surprise return. After another blind date, they will also move into the shared house – creating a love triangle.
By the end of the process – with more twists promised – the contestant will have to decide which of their suitors they want to pursue a relationship with.
Combining all the most jaw-dropping elements of popular dating shows, Love Triangle is produced by Workerbee (a Banijay UK company) and is based on an Australian format created by the producers of MAFS Australia.
"When it comes to romance, most of us have a type we want, who often disappoints; we fail to spot the match we need, who could make us truly happy," Channel 4 commissioning editor Lee McMurray said in a statement.
Related: MAFS couple Jules and Cam reunite with matchmaker Mel Schilling
"Love Triangle puts this modern dating dilemma front and centre, with a trademark E4 twist. I'm confident British audiences will be gripped by this radical rejection of our current looks-based, swipe right dating culture, as they share the joy, love, heartache and off-the-scale drama of the six brave singles taking part in this unique, distinctive quest for love."
"In the superficial world of modern dating, it's all too easy to swipe away matches who could have been the love of our lives, if only we'd given them a chance," Workerbee creative director Ben Mitchell commented.
"In this explosive new format, we're asking six singles to try a very different approach to finding 'the one'. The results are surprising, emotional and dramatic. In Love Triangle, there are three sides to every story!"
Love Triangle will air on E4.

Reporter, Digital Spy
Stefania is a freelance writer specialising in TV and movies. After graduating from City University, London, she covered LGBTQ+ news and pursued a career in entertainment journalism, with her work appearing in outlets including Little White Lies, The Skinny, Radio Times and Digital Spy. 
Her beats are horror films and period dramas, especially if fronted by queer women. She can argue why Scream is the best slasher in four languages (and a half). 
Source: www.digitalspy.com