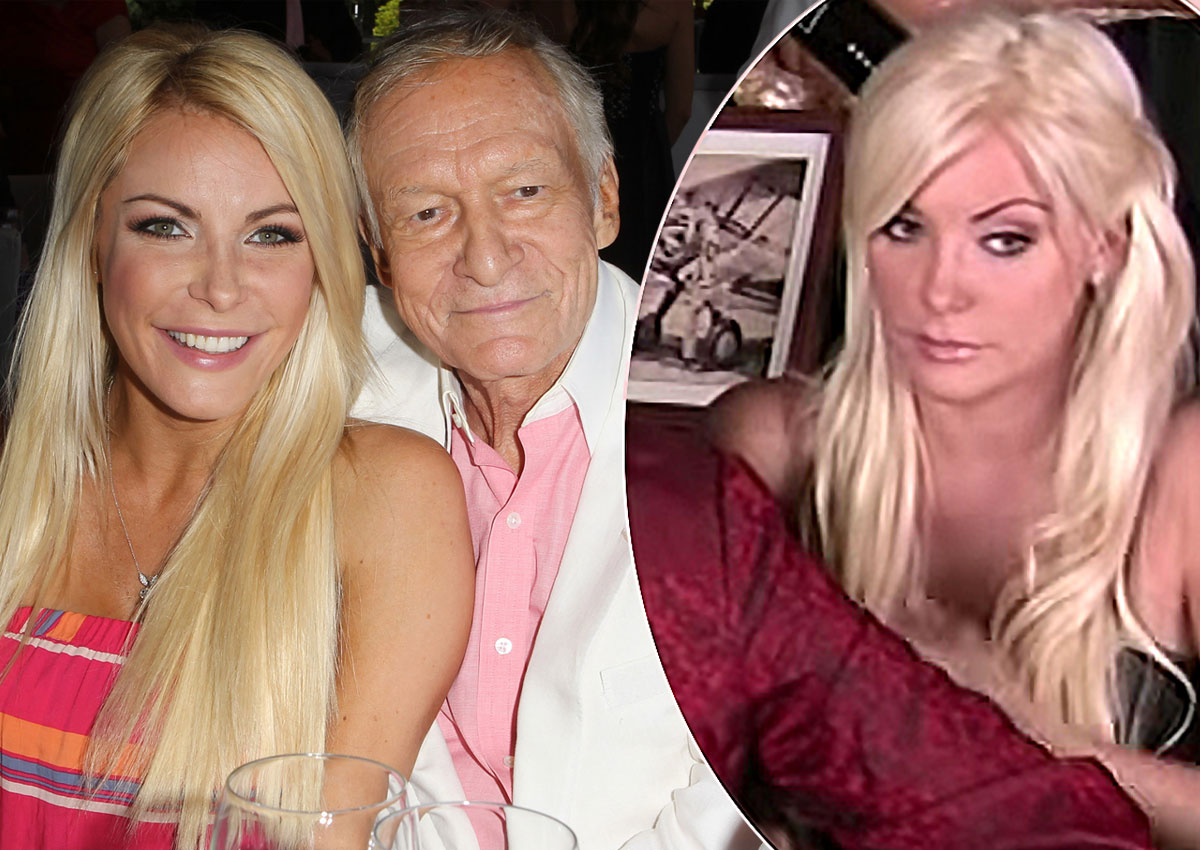 Crystal Hefner is finally breaking her silence about her late husband, Hugh Hefner — and she's got A LOT to say.
After the Playboy founder's death in 2017, his widow left the El Lay scene for the beaches of Hawaii, promising to keep quiet on Hef's legacy. She didn't participate in Secrets of Playboy and famously feuded with her husband's ex Holly Madison, who has spilled plenty of tea about Hef over the years.
But Crystal has since changed her mind. In her upcoming book, Only Say Good Things: Surviving Playboy and Finding Myself, the 37-year-old goes in-depth about life in and around the Playboy Mansion. Ahead of its release, she spoke with DailyMail.com on Monday about some of the juicy deets you can find in the pages.
At first, she points out the irony of Hef passing away only a month before the #MeToo movement took over the world:
"You can't fault his timing. He dipped out right on time. Hef's lifespan of 91 years, it ended on the cusp of #MeToo. Coincidence? I think not."
Whoa! She's really going for it!
Despite saying she's still "Team Hef" to a certain degree, the former model is ready to expose him for what she claims he really was — misogynistic, narcissistic, co-dependent, and controlling, among many other things.
She first met the publisher when she was just on the cusp of 21, and her life changed the moment she laid eyes him. She was a psychology graduate, living in San Diego, hoping to score tickets to one of his famous Halloween parties in order to meet some celebrities. What she didn't expect, though, was to actually get tickets — and furthermore, to catch then 81-year-old's eye. She officially became one of Hef's lovers that very night:
"It was immediate, right away, it's what was expected."
Crystal immediately got a feel for the Playboy lifestyle, moving in alongside twins Karissa and Kristina Shannon, which left them all competing for the CEO's affection:
"Being picked or not picked, it was devastating for us girls, but a game to him."
Soon enough, though, Crystal was the one picked for good — Hef made the then-26-year-old his wife in 2012. Crystal describes the marriage as controlling, saying her husband would pick out her nail polish and tap her head when her roots were showing. He would also give her a 6 p.m. curfew and have dinner with her, always eating chicken soup, cream cheese, and crackers. It wasn't until after dark, though, that things got really wild…
Related: Holly Madison Reveals She Never Spoke To Hef After Breakup
The former Playmate said after dinner she was expected to have "group sex" with Hef and other models, in THEIR bedroom:
"It was embarrassing. I don't know the most people there'd been in our bedroom at one time but — a lot. Pretty bad. We were like, 'Oh, now it's your turn.' Nobody really wanted to be there but I think in Hef's mind, he still thought he was in his 40s, and those nights, the people, the mansion, solidified that idea. He felt, 'I've still got it.'"
She went on to claim her husband took so much Viagra he lost his hearing in one ear! 
"Hef always said he'd rather be deaf and still able to have sex. Weird."
And as far as what Hef was working with? She wasn't really impressed:
"Everyone had questions. Mostly anatomical … [It was] unremarkable. Whatever you would like, whatever you would think, or however you would want a night to go, well, it wasn't that."
Damn!
Crystal maintains the hardest part of all was the judgment that came with her relationship — but years on, she understands why people responded how they did. And no, she does NOT want her daughter following in her footsteps:
"The hardest part of trying to have a relationship with Hef was that it was judged so much. Rightfully so. If that was my daughter now — it wouldn't happen. All I can say is that if you come from a happy, perfect, loving childhood, you don't usually end up with someone who was already 60 years old by the time you are born."
So sad…
Looking back, she now "feels sorry" for her younger self:
"The other day I found a picture of me with him at the very beginning. It's just so sad. [I look] like a baby. I look back and I feel sorry for that girl. There was going to be this Wizard Of Oz moment where the fantasy fades, you draw back the curtain and see the reality of it. But he who has the money makes the rules, right?"
But she's not ashamed of her choices at the time:
"When your family is broken you feel like you don't really belong anywhere. You depend on the kindness of others and you make yourself small to try to fit in. You have no power. Then I met Hef. He lived how the other half lives. You feel, 'Wow, I could belong here too.' At first, the Playboy Mansion felt like a sanctuary. It wasn't. But then you either abide by it or you leave, and I didn't feel like I had anywhere else to go or that I could make anything of myself."
At the end of her interview, she could only describe her experience in the mansion in one way:
"Looking back, I think I had a kind of Stockholm syndrome."
Moving forward, the Playboy cover star just hopes to get married again and one day have more kids — but with her history, it's proving to be a challenge:
"I'm having a hard time with relationships. I need to catch up to my age. The worst thing is that people were always inviting me to meet someone, a man, and then he'd be way older. I feel like everyone was trying to pass me around to the next 80-year-old. It's awful."
Only Say Good Things is scheduled to hit shelves in January 2024. Will U be picking up a copy, Perezcious readers? Let us know (below).
[Image via Los Angeles Times/YouTube/FayesVision/WENN]
News Summary:
Crystal Hefner Tells All! Hef's Penis, Group Stuff, & Getting 'Stockholm Syndrome'! – Perez Hilton
Check all news and articles from the latest ENTERTAINMENT updates.
Please Subscribe us at Google News.
Denial of responsibility!
TheShockNews
is an automatic aggregator around the global media. All the content are available free on Internet. We have just arranged it in one platform for educational purpose only. In each content, the hyperlink to the primary source is specified. All trademarks belong to their rightful owners, all materials to their authors. If you are the owner of the content and do not want us to publish your materials on our website, please contact us by email:
[email protected]
The content will be deleted within 24 hours.