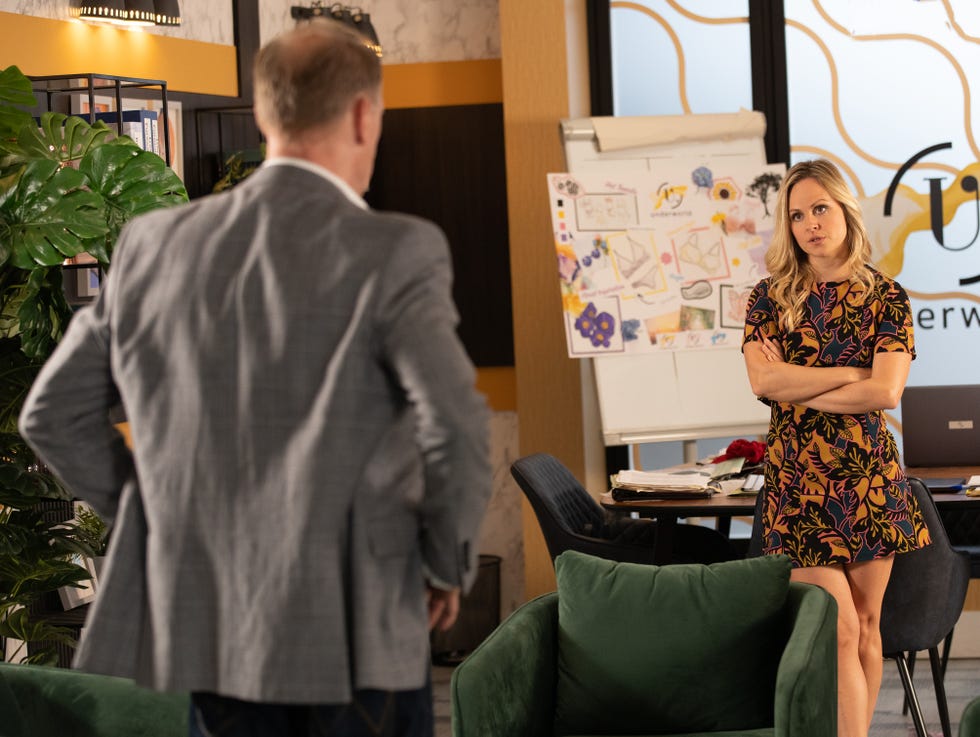 Coronation Street spoilers follow.
Stephen Reid has received another ultimatum from niece Sarah Barlow in Coronation Street.
Last week, Sarah discovered that Stephen had stolen money from Audrey Roberts' home equity but agreed to keep it secret so long as her uncle paid all of the money back.
Sarah has since suspected Stephen has a dodgy plan in the Nippersnapper deal, though she's not yet been able to catch him in the act on that one.
In Friday's (September 1) episode, Stephen continued to try to woo Jenny and was thrilled when she offered to whisk him away on a romantic holiday she'd pay for.
Their loved-up behaviour caught the suspicion of Tim Metcalfe, who has been trying to warn Stephen's family and friends he's up to no good after the way he treated Elaine Jones.
Tim took some joy in announcing that Elaine had decided to sell her flat and wanted Stephen to move out immediately.
Stephen was irate over the latest development, as he moaned to Jenny about his ex-partner essentially making him homeless.
The killer next had to try to win over Sarah once again, as he explained he wouldn't be able to pay Audrey back as quickly as he thought.
Stephen had claimed he'd use the money from the Nippersnapper deal to pay off Audrey, but now would need the money for a down payment on a new flat.
Sarah wasn't willing to let him off the hook, as she warned her uncle he needed to pay back every single penny he took or she'd tell Audrey what he'd done.
With Stephen now backed into a corner, he was relieved to be bailed out once again when new girlfriend Jenny offered him a bed at the Rovers.
Has Stephen got away with it all once again?
Coronation Street airs on Mondays, Wednesdays and Fridays at 8pm on ITV1 and streams on ITVX.
Read more Coronation Street spoilers on our dedicated homepage.

Night News Editor
Justin has been with Digital Spy since 2010, and in that time, has covered countless major news events for DS from the US. 
He has worked previously as both a reporter and sub editor for the brand, prior to taking on the position of Night News Editor in 2016. 
Over more than a decade, he has interviewed a wide-ranging group of public figures, from comedian Steve Coogan to icons from the Star Trek universe, cast members from the Marvel Cinematic Universe and reality stars from numerous Real Housewives cities and the Below Deck franchise. As a US contributor to Digital Spy, Justin has also been on the ground to cover major pop culture events like the Star Wars Celebration and the D23 Expo.
Source: www.digitalspy.com