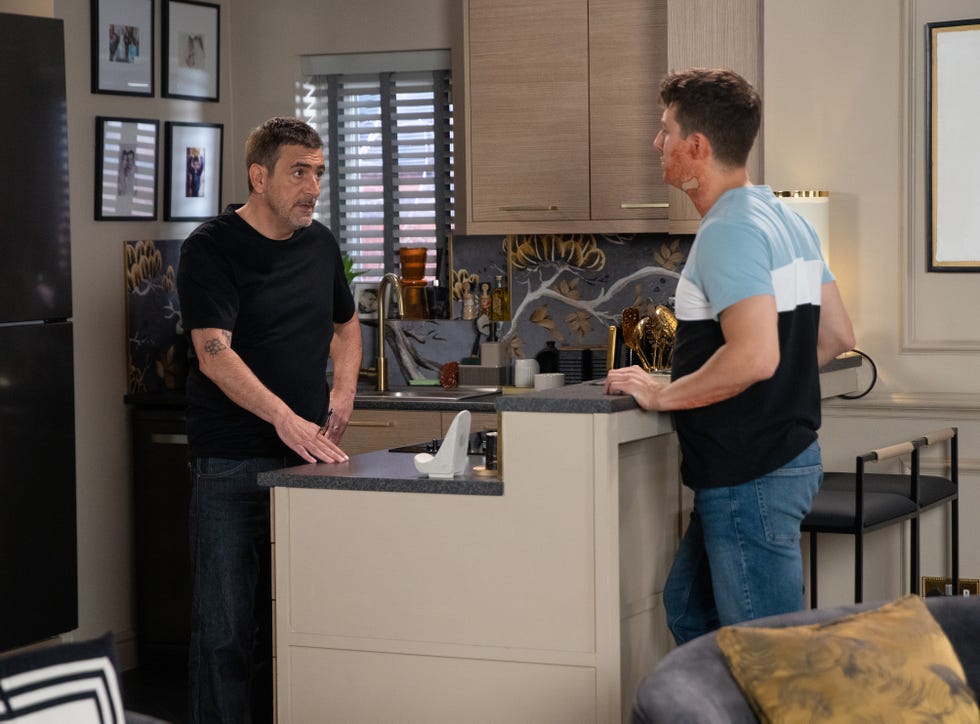 Coronation Street spoilers follow.
Coronation Street's Carla Barlow is left irritated in Monday's episode (August 21) as she discovers that her husband Peter has been putting pressure on Ryan Connor to start working again.
Peter decides that it's time for a quiet word with Ryan as he struggles to figure out how he'll repay Rufus Donahue's widow Lou for stealing the businessman's watch.
Monday's visit to the cobbles sees Peter confide in Ryan about how he owes Lou £15,000 and every penny counts.
Peter gently encourages Ryan to start paying rent at the flat, aware that he hasn't been working regularly since the acid attack.
Related: Coronation Street star Jack P Shepherd calls for baby storyline
Determined to pay his way, Ryan promises to ask about doing shifts at the Bistro again.
When word of this gets back to Carla, she's disappointed in Peter for putting pressure on Ryan.
Peter's intervention sparks the next stage of Ryan's storyline, as he gets an idea from one of his online followers.
Ryan has been sharing shirtless pictures online to document his ongoing body transformation.
Related: Coronation Street to revisit Sam Blakeman and Hope Stape storyline
However, one follower – Liv – takes things a step further by urging Ryan to drop his trousers and take a picture in return for payment.
Ryan Prescott, who plays Ryan, recently told Digital Spy: "For Ryan, it's 100% about the validation. There is a financial side to it where he's trying to help pay rent to Peter and Carla. They're indebted to Rufus' wife because of the stolen watch, so he's trying to do his bit.
"It's also for Ryan to feel that he's still independent. That becomes another justification for him for why he should do this work and I think that's all he needs. But it's much more about the validation than anything else."
Check out more of our Coronation Street coverage:
– Coronation Street star Lucy Fallon shares co-star reunion ahead of soap return
– Coronation Street stars reveal Todd Grimshaw will be replaced
– Coronation Street star Charlotte Jordan teases Daisy's next shock discovery
– Coronation Street's Ryan Connor rages at Carla Barlow in shocking scenes
– 12 huge Coronation Street spoilers for next week
– Coronation Street star Jodie Prenger reveals "worry" over Stephen storyline
– Coronation Street star Channique Sterling-Brown confirms new story for Dee-Dee Bailey
– Coronation Street star Tina O'Brien reveals dramatic future for Sarah after baby plot
– Coronation Street star Jack P Shepherd confirms downfall for Stephen Reid
Coronation Street airs on Mondays, Wednesdays and Fridays at 8pm on ITV1 and streams on ITVX.
Read more Coronation Street spoilers on our dedicated homepage.
Daniel has been writing about soaps on Digital Spy since 2004 and took over as Soaps Editor in 2010.  
He has interviewed hundreds of soap stars over the years, from Bill Roache to Lacey Turner, and regularly visits the sets of Coronation Street, EastEnders, Emmerdale and Hollyoaks for behind-the-scenes trips and press events.  
He has served as an awards judge on numerous occasions for the likes of the BAFTA TV Awards, RTS Programme Awards and British Soap Awards. In 2020, he was Highly Commended for Best Section Editor at the BSME Awards.
 
Source: www.digitalspy.com