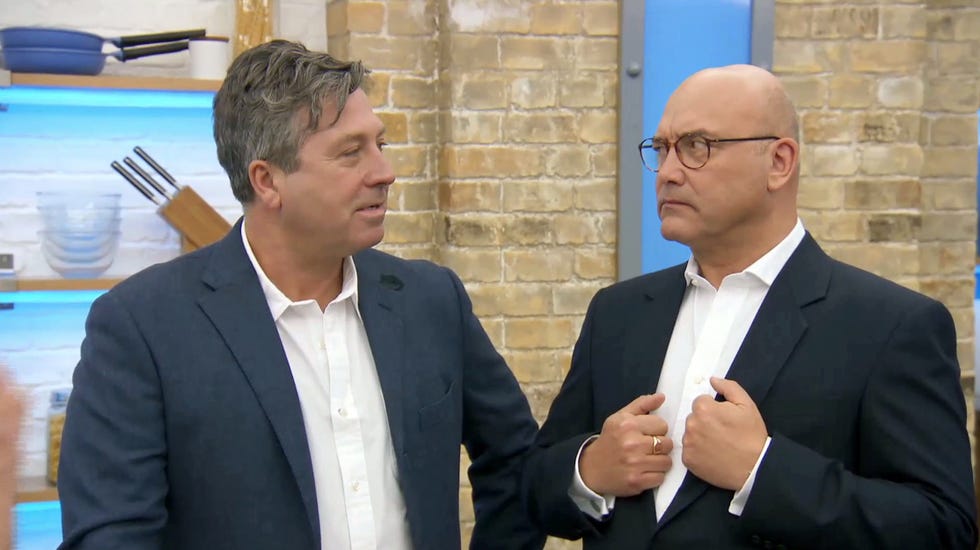 Celebrity MasterChef spoilers follow.
Celebrity Masterchef star Mica Ven has revealed that the show's judges Gregg Wallace and John Torode aren't as "scary" as they seem on screen.
In an exclusive interview with Digital Spy, the former Gogglebox star recalled how nice the two were to her on set and how she dealt with their feedback on her food.
"They're just a vibe, really, really nice guys," she said of the show's two long-standing food critics.
Related: Gogglebox star Mica Ven welcomes new family member
"I think when you're watching them, they come across a bit – like John definitely comes across a bit scary, a bit more scary than say Gregg does – so to be around them I was a little bit nervous, but actually, they just make you feel so comfortable."
Mica added that whilst friendly, she still felt the pressure when it came to presenting them with her food for judging.
"I'm so used to my lot in my house being really receptive to my food, giving me that feedback and praise," she told us.
"So, when you're cooking for John and Gregg who haven't had your food before, and they're like major food critics and they know what the hell they're talking about, yeah, I genuinely was like, you know, 'Be nice'," she said with a laugh.
Mica was "blown away" and "genuinely chuffed" by their reception to her food so far, especially given their "well-travelled palettes".
"As much as I know that my food is nice, you're still not quite sure when you're in that Masterchef kitchen if it's nice enough for their palates," she said. "So, to have little Meeshy from South London's food, it's like, 'Is it gonna match up?' and so far, so good."
Related: Celebrity MasterChef eliminates another contestant
Mica is back in the Celebrity Masterchef kitchen in tonight's episode (August 29) as a proud semi-finalist.
Viewers saw her sail through the first round of the cooking heats, where she competed against reality star Dani Dyer, The Inbetweeners actor James Buckley, comedian Marcus Brigstocke and Strictly Come Dancing contestant Richie Anderson.
Following Richie's elimination, the remaining four returned to battle it out in the quarter-finals with two-course meals that were critiqued by previous Celebrity Masterchef winners Angellica Bell and Lisa Snowdon, plus last year's finalist Danny Jones.
Mica's sticky chicken wings, creamy mash and mac 'n' cheese received rave reviews from the guest panel and both judges, securing her a place in the semi-final with Marcus Brigstocke.
They're joined by Emmerdale actress Amy Walsh, Luca Bish of Love Island fame, singers Jamelia and Max George, plus comedian Shazia Mirza and singer Wynne Evans, known for the Go Compare adverts.
Viewers will see all eight compete for a place in the coveted final during episodes this week.
Celebrity MasterChef airs on BBC One.

Acting Deputy News Editor, Digital Spy
Emily is an experienced entertainment writer and editor, reporting on all things TV, film, soaps and showbiz. An NCTJ-qualified journalist, with a First Class Honours degree in Journalism from the University of Sussex, Emily has previously worked at Hello magazine, BBC South News and GoodtoKnow. She joined Digital Spy as Acting Deputy News Editor in May 2023.
A small and big-screen obsessive – with subscriptions to every TV and film service under the sun – Emily knows her movie stars from soap stars, and is always clued up on the latest reality show dumping, just-dropped trailer or off-screen spat. She's interviewed a number of celebrities over the years, with highlights including The Masked Singer host Joel Dommett and GMB's Kate Garraway (who "loved" her trousers).
Emily counts Sharon Horgan and Julia Davis as her TV heroes, and is a loyal Wes Anderson fan.
Source: www.digitalspy.com