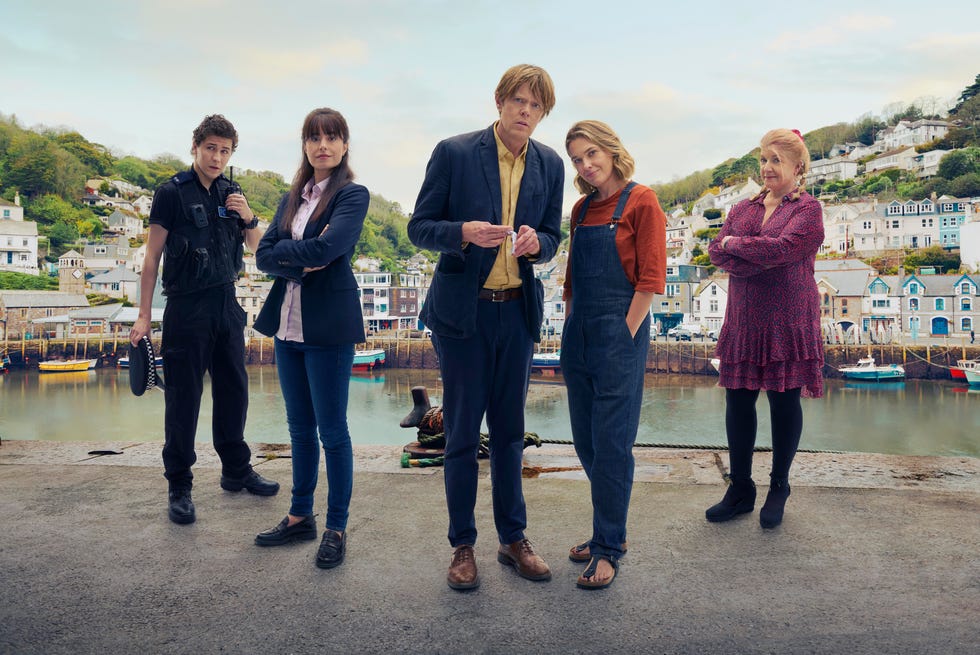 Beyond Paradise's stars have promised some "cracking guest stars" in season 2 of the show.
The successful spin-off of Death in Paradise made its debut earlier this year, and follows Kris Marshall's DI Humphrey Goodman as he relocates to Devon with his fiancée.
Speaking on the NTAs red carpet last night (September 5), stars Dylan Llewellyn (PC Kelby Hartford) and Zahra Ahmadi (DS Esther Williams) were asked about potential guest stars for season 2.
Related: Beyond Paradise fight scene draws big laughs from viewers
While he cast doubt on any Death in Paradise crossovers, Llewellyn told Digital Spy and other media: "There are some guest stars, but I don't know what we can say."
"We have got some cracking guest stars," Ahmadi added. "I was properly starstruck with one."
The actress also spoke a bit about what to expect from season 2, teasing: "It's like season one, but upgraded. Some of the episode have higher stakes.
"More of the same, but amped up. It goes into more of our characters a bit more, it goes into the backstory of our characters."
Related: Death in Paradise's Ralf Little shares exciting filming update after series 13 break
Marshall previously expressed hope at working with the other Death in Paradise detectives, telling Digital Spy in February: "I would say there's always a possibility of something like that."
Beyond Paradise was renewed for season 2 in April, executive producer Tim Key saying at the time: "We've been blown away by the audience response to the show and are so happy that people have taken it to their hearts.
"We can't wait to get our amazing cast back together to continue the story – and to be able to pay a visit to Shipton Abbott at Christmas is even better."
Death in Paradise and its spin-off, Beyond Paradise, air on BBC One and stream on BBC iPlayer.
Sam is a freelance reporter and sub-editor who has a particular interest in movies, TV and music. After completing a journalism Masters at City University, London, Sam joined Digital Spy as a reporter, and has also freelanced for publications such as NME and Screen International.  Sam, who also has a degree in Film, can wax lyrical about everything from Lord of the Rings to Love Is Blind, and is equally in his element crossing every 't' and dotting every 'i' as a sub-editor.
TV writer, Digital Spy Janet completed her Masters degree in Magazine Journalism in 2013 and has continued to grow professionally within the industry ever since.  For six years she honed her analytical reviewing skills at the Good Housekeeping institute eventually becoming Acting Head of Food testing.  She also freelanced in the field of film and TV journalism from 2013-2020, when she interviewed A-List stars such as Samuel L Jackson, Colin Firth and Scarlett Johansson. In 2021 she joined Digital Spy as TV writer where she gets to delve into more of what she loves, watching copious amounts of telly all in the name of work. Since taking on the role she has conducted red carpet interviews with the cast of Bridgerton, covered the BAFTAs and been interviewed by BBC Radio and London Live. In her spare time she also moonlights as a published author, the book Gothic Angel.
 
Source: www.digitalspy.com